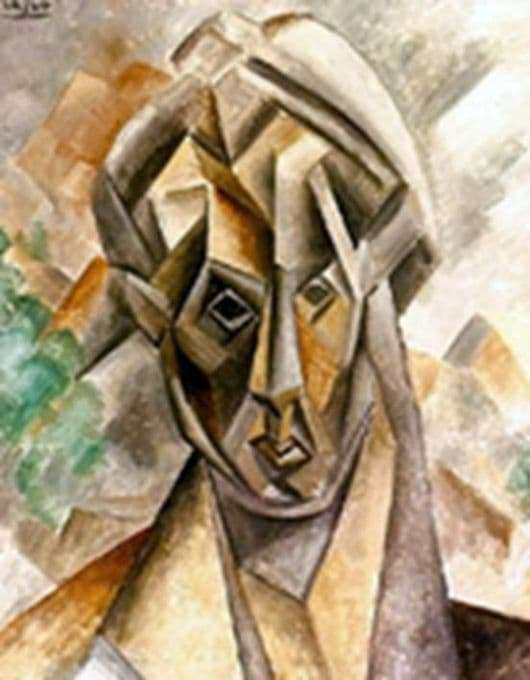 Pablo Picasso is a creative person, he especially liked to draw women. In his life there were several important persons who played the role of the Muses. They remained in history, and their canvases remembered their beauty. The portrait "The head of the woman" is present in every creative period of the artist This head belongs to Fernande Olivier.
She burst into the life of the creator in a very difficult period.
In 1904, Pablo experienced the death of a close friend. To get rid of the point and painful loneliness, he goes to Paris. There the artist meets the dark maid who inspires and becomes his lover.
Fernard poses and gives her unique beauty without a trace. This portrait is made in the technique of cubism. Of course, not everyone will be able to see the thin feminine lines in these sharp edges. But Picasso could think very abstract. Standard forms and familiar smooth lines were not enough for him. Nature is just a muse – the author takes a brush and starts to improvise.
At the beginning of their romance, the woman was pretty and feminine. But Fernard insisted on a more serious relationship, she wanted a family. Then this strange ugly portrait was born. He wanted to show that the girl annoys her.
In the face the artist saw only ugly lines, and skillfully shifted her flaws onto the canvas. Cubism attracts the author with its non-standard forms, he is confused. It is obviously necessary to change something, his soul is angular and requires a change of scenery. The portrait clearly conveys a dislike for this person.
The woman is ugly, among the corners and the shadows is difficult to see the real look of a model. Undoubtedly, this was what the artist wanted, he painted feelings and experiences. Geometrical figures are made up chaotically, but, nevertheless, we see eyes and narrow lips.