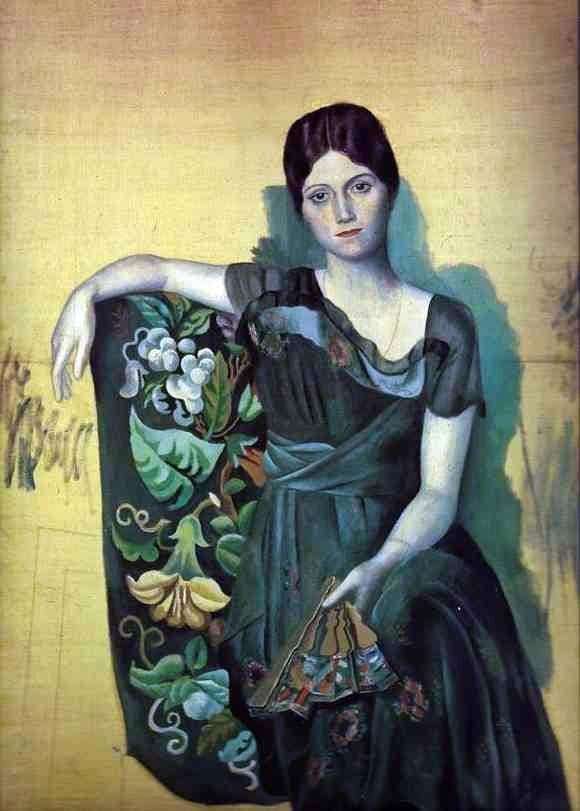 The painting was painted in 1917. During this period of his work, the artist returned to the classic portrait technique. The picture shows the wife of P. Picasso Olga Khokhlova. At that time, the artist felt at peace, he became a father. Critics condemned the painter for his excessive realism and betrayal of his style. Although the same people had previously criticized Picasso for his cubism. Such a change of style is characterized by the artist's spiritual harmony, although there is some similarity and limitation of creative flight.
Olga sits in a chair relaxed, her eyes focused. In a look the melancholy, even a certain submission is traced. Her arm, thrown over the back of the chair, shows fatigue, it is possible that she was tired of her long pose. Profitable shades and shape, and skin color is a dark background. According to the stories of contemporaries, Olga Khokhlova was not an attractive woman.
Successful among women P. Picasso surprised everyone with his choice. Their marriage lasted more than ten years. For Olga along with the end of her marriage came the end of her life. From the picture also breathes fatigue and tragedy. Free posture and clenched lips tell about the tension of a woman. In the modern understanding of beauty, the wife of P. Picasso can not be called plain. The clothes of the woman transfer fashion of that time and show the beauty of the Parisian style. It was during this period that the couple lived in Paris.
Despite criticism from those around her, Olga Khokhlova remained a muse for P. Picasso. This is evidenced by her portrait. The artist depicted the spouse a beautiful and modern woman of his time. He always said that he displays reality exactly as he feels at the moment. Apparently, during the period of family life, the feeling of the reality of the great master was similar to the attitude of an ordinary person. It is this that the artist was so often reproached for.