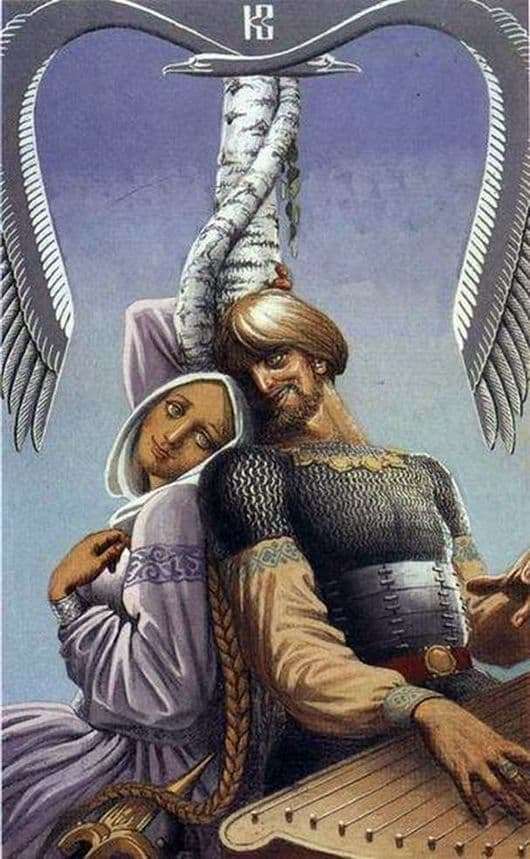 A colorful, almost popular print picture, which depicts one of the three most famous Russian warriors – Alyosha Popovich. Oh, and the master, he was his strongman to surprise. At the mere mention of him, the Mongol Mongols threw down their weapons and fled, wherever they looked. He was painfully severe when he met an adversary enemy on his way.
No one could believe that his parent was a simple pop, and from here, actually, his nickname – Popovich. According to legend, Alyosha grew by leaps and bounds, and since his infancy, he didn't have hefty strength. But only love could break such a good man. He fell in love without memory in the red girl Alyonushka. Yes, he fell in love so that, with only one form of his beloved, he would lose both his strength and his will. He forgot about the heroic warrior business, sought her love. Actually achieved, but not immediately.
On the canvas just captured the moment when they had already met and apparently agreed to be together. See how much happiness in the eyes of both. They are so good that even the bogatyr himself took the harp and plays something. And their meeting is symbolic – at a birch, at the most beautiful Russian tree. And their heads are covered from above by another symbol of true Russian love – the swan. But also not a simple swan, but some kind of iron made. He protects those in love from any misfortunes. Although Popovich himself can protect himself, but misfortunes are different. That separation comes on the heels, then death can inadvertently remind of itself. Protection is always useful, even for the brave and steadfast hero of the Russian land.
Vasiliev was able to show a broad Russian soul in one picture only and did not go astray, in particular, he truly showed what a Russian person is like in both female and male appearance. All connected and did not make it too loose. Just exactly that – and male prowess, and female beauty.