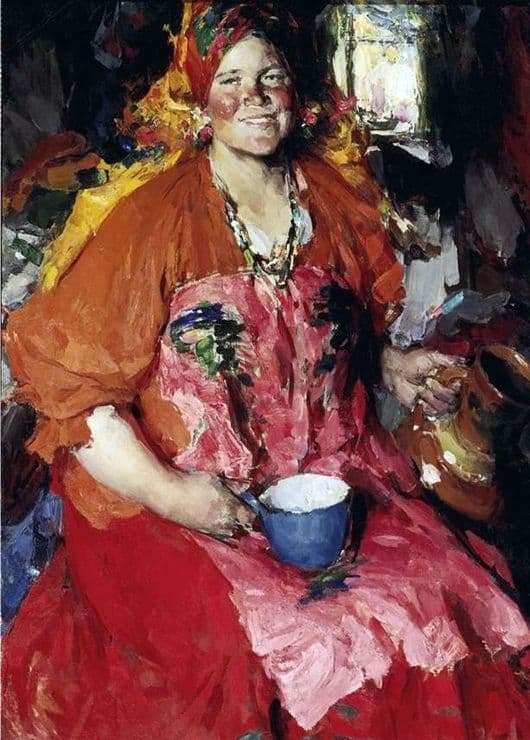 A real Russian girl, lush, with a soft kind face, who is ready to give the guests a delicious rural milk. Krasna maiden! Lepota!!!
Something is in this portrait from Kustodiev, but the latter does not have this simplicity – there is more and more popular folk-folk, the Russian has a round dance – and here it seems like the Russian soul itself. And open and kind, with a strong powerful body and strong hands. And most importantly, not greedy – the last to share. That is indeed the Russian soul! That is not invented, not sleek, not invented, but purely folk.
But the main thing here is color. The artist began to write so vividly paintings on peasant themes, although prior to this cycle he wrote canvases with rather gloomy tones and somehow everything was hopeless. But in this cycle, the artist opened in a different capacity. A pupil of the great Russian painters Savrasov, Polenov, Pryanishnikov, Makovsky did not disappoint his students. He boldly experimented with paints. And he achieved that Tretyakov personally bought from him paintings for the collection.
But indeed the girl is depicted brightly: an orange blouse, a red skirt an apron with a pattern of reddish shades. In his hand a bright blue cup, and in his other hand a jug. And therefore it seems to us that it is too brightly represented, because the background is dark. It is due to this and brightness. That is why it seems to us that the girl is shining. By the way, even the blush on her face is so bright red… In general, the Russian beauty.
As for the artist himself, his life was all in work. He really did a lot for the development of Russian art school after the 1917 revolution. He did not forget the origins, did not forget the great names of our school of painting. And it was at that time when everything old was forgotten completely, and the new one smelled of lack of culture. Only for this we should be grateful to this painter. He did not betray his teachers.