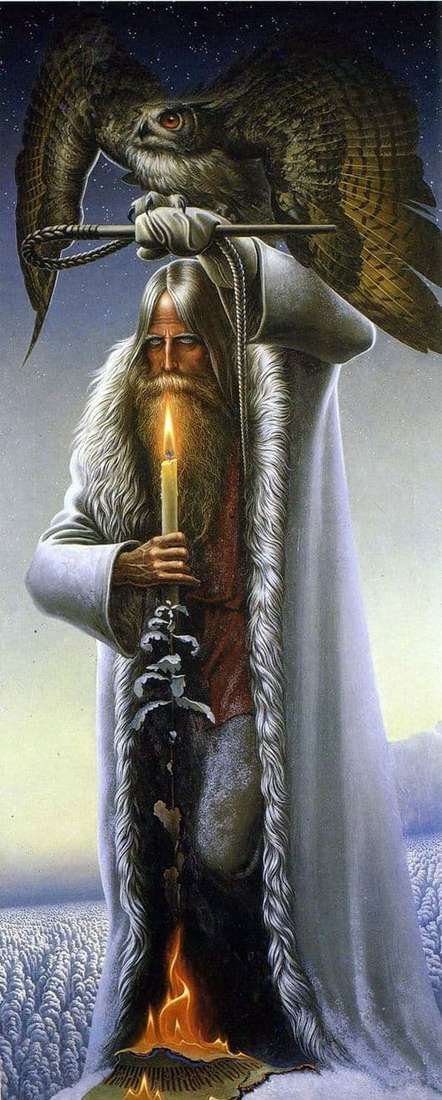 The great Russian artist Konstantin Vasilyev painted a unique painting "A Man with an Owl". This is a kind of challenge to all of humanity, which makes a person's mind penetrate deep into philosophy and reflect on the existence of life. The picture is hard, not everyone is given to accept and know what our story bears.
The protagonist is an old man who brings the world wisdom and knowledge gained in all his long and difficult life. He is dressed in a fur coat with a fur trim, a caftan and harem pants. This is a real Russian sage who lived a very difficult life. The bird sits on the hand of an old man, it towers over the world and connects heaven and earth together.
The owl is formidable, powerful and wise, his eye looks into the distance, as if controlling everything that happens in the universe. The elder rises above the world, beneath the clouds. He does not need much, he has seen so much in life that he took with him only a faithful companion, a candle that will help and tell him the true path and a whip that will protect and show his power. The elder is focused on the flame of the candle, he rethinks all life and tries to find his further path, which will be without sins and problems.
Wisdom, determination and reinterpretation of everything that exists on earth is presented in just such a manner and for good reason. Only the old, wise and experienced warriors can get to where all the elements that can both revive and destroy are joined together.
The painting was painted in the year of death of the artist in 1976. She was like a prophecy the end of his biography. This confirms the burning scroll with the initials of the great master. He proves to the world that only a creative thought born from knowledge can reach heavenly heavens. The viewer perceives the plot in different ways, because of their faith, knowledge and spiritual beginnings. Be sure to check out this amazing story, which will leave in your memory an indelible impression of what he saw.