Description of the painting by Fyodor Vasilyev "After the rain"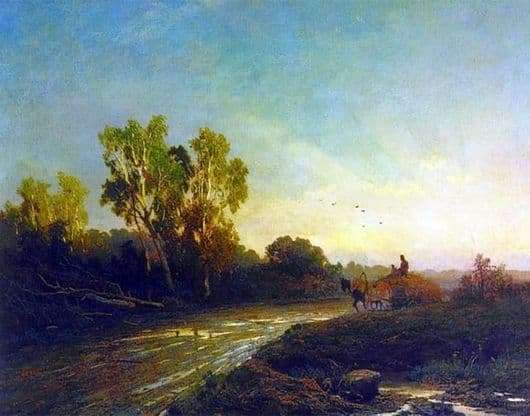 The painter Fyodor Vasilyev for his life wrote many landscapes, which were recognized by his contemporaries. The painting "After the Rain", the artist creates in 1869. Now she is exhibited in Moscow, in one of the halls of the Tretyakov Gallery.
At first glance, the simple landscape "After the Rain" attracts the viewer with the magnificence of nature, tranquility and freshness. Fyodor Vasilyev especially skillfully managed to convey through the inconspicuous landscape all the greatness, mystery and magic of Mother Nature.
Looking at the canvas, the viewer can feel the freshness of the air after the last rain. The air in the picture seems to be humid. The artist surprisingly clearly managed to convey the atmosphere of a summer day after a good rainstorm. It can be seen that the entire road is covered with puddles and washed out, it is difficult now to have carts and horses passing through it. There was a
lot of water in the roadside ditches, which means that the rain was heavy. In the background you can see the looking sun.
In the foreground of the canvas, the viewer sees a blurred rural road, traveling along it with a hay cart. The cart is harnessed with two horses, peasants are sitting on it. On the edges of the road, trees freshened from moisture are visible, some of them lie broken by a strong wind. Most of the canvas takes the image of the sky. Vasiliev always pays great attention to heaven in his works. Most of the heavenly space is painted in bright blue. Its lower part is bright from the rays of the coming sun.
The picture "After the Rain" leaves a joyful, exciting impression in the soul of the viewer. The canvas pleases with its freshness, because nature is renewed by rain, the greens are filled with life-giving moisture. The picture seems to be alive, it seems as if the horses are now moving, and the breeze will stir the drying leaves of the trees. The artist was very fond of the Russian nature and with all his love carried her to the canvases.





(
1
votes, average:
5.00
out of 5)
Description of the painting by Fyodor Vasilyev "After the rain"