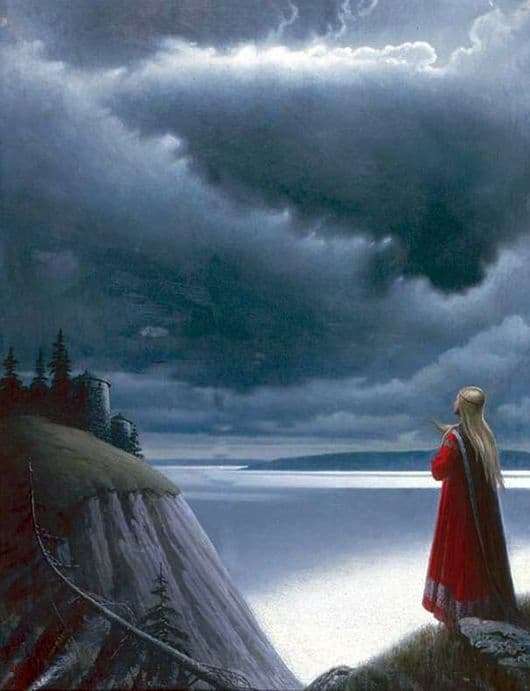 The painting "Above the Volga" by Vasilyev was painted in his traditional, epic-mythological style.
In the foreground we see a girl of Slavic appearance turned to the heavens. On a cliff of a cliff, her stately figure, dressed in a red caftan, looks proud and dutiful at the same time. Golden-white hair and a neat chin spice allow us to judge her beauty. Beautiful, just lovely girl thoughtfully stands on the very cliff. What is she thinking at this moment? About anything, but her thoughts at this moment are strong and fleeting, and the heroine herself causes delight.
A little further we see the same hill with a cliff, on which there are buildings resembling a fortress wall and hidden behind trees. But here we look a little further and see a huge Volga, which is not less than three kilometers to the opposite coast. The majesty of this river in the picture is only a giant sky, which is hidden to the very horizon by large and powerful clouds. Bluish-black with a multitude of silver-gray shades, they set the mood for the whole picture, creating a dark and heavy atmosphere, in which that blond girl in a red sundress acts as a bright contrast…
With his work, the artist Vasiliev was able to convey the state of the Russian soul and nature in such colors that shook the mind and always aroused enthusiasm among the people. Despite all the criticism of his envy, Vasiliev was able to create more than four hundred works of art and graphics. In his archive there are not only portraits and landscapes on the theme of the history of Russia in different centuries, but also many surrealistic paintings. As in all other paintings, on the canvas "Above the Volga" unusual colors and signs of symbolism are used, which together make the picture interesting and original.