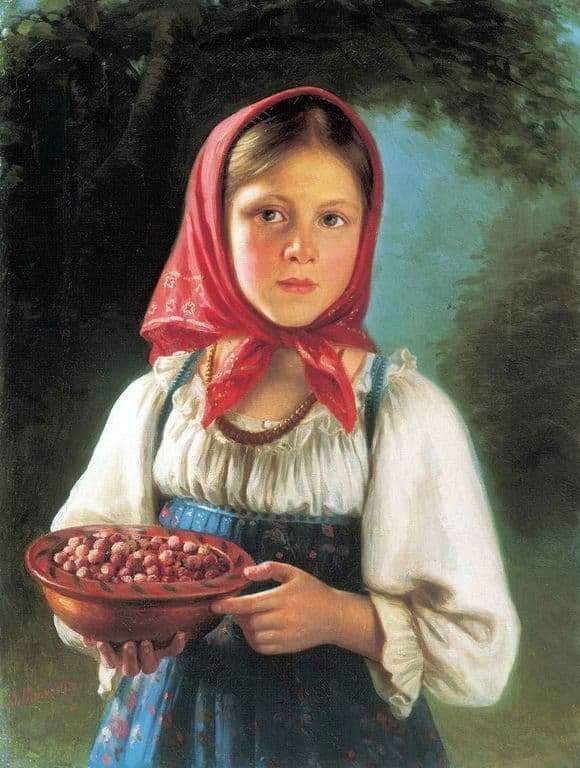 Vasily Timofeev followed Tropinin's style and considered human nature as the main theme in his work. Portraits breathe tenderness and penetration. They present poetizatsiya, organically inscribed in the correct portrait.
These characteristics are peculiar to the painting style of V. Timofeyev. Especially brightly such features appear in the girls' images. He expresses the ideals of national beauty.
His heroine, a girl with berries, is delicately felt and realistic, the film feels warm and sincere, as the artist seeks to portray only positive aspects.
Favorite domestic scenes, even in portraits are transmitted by the artist in a romantic style, emphasizing the charm and psychology of the model.
Timofeev's work "The Girl with Berries" embodies the national tradition and the feeling of reality with subtle detailing and special energy emanating from the image.
In the 19th century, during the golden age in Russian art, romantic ideals were especially popular. Russian artists embody a diverse and unique world around them, moving away from the principles of classicism and strict canons.
A high level of skill and technology is reflected in the portrait and landscape. Timofeev, as the founder of the genre portrait, surprisingly understood his purpose and was sensitive to the Russian tradition and the tendency in painting, which together manifested itself in the integrity of his work.