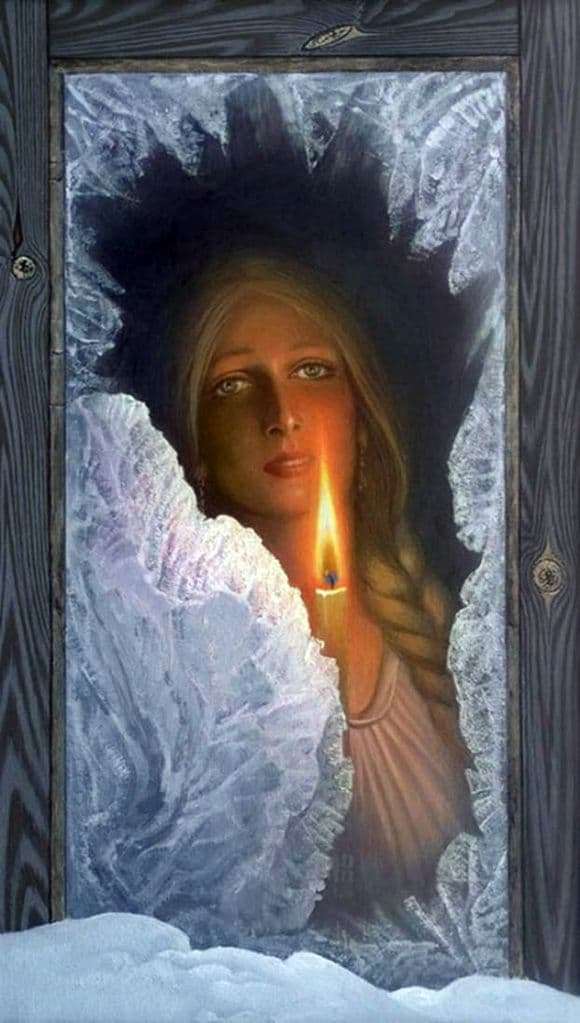 From the creative heritage of Konstantin Vasilyev among more than 400 paintings, the painting "Expectation" is justly distinguished by its impact on the feelings of the viewer. The artwork was done in 1976.
Our gaze presents an elongated canvas framed by the wooden frame of a narrow window. Reliably repeated wood pattern hints at a realistic painting genre. Winter covered the window sill with snow from the outside of the dwelling, painted glass with white branching patterns. Candle fire illuminates the face of a young beautiful girl.
In the depths of the room one can see only impenetrable darkness. Hope – in the eyes of a young, her soul is languishing from waiting for a fateful meeting with his beloved. Where he is now – one can only guess: he went to war or went to work, it is possible that he was not met at all in his life's journey. The girl left her relatives and friends, all the housekeeping was done and bored, with a ray of light from the candle she melted an icy window and peered into the distance waiting for female happiness. Look sad, anxious, she is afraid never to wait for him, she looks imploringly with beautiful bright eyes.
Vasiliev used contrasting combinations of colors. Light – snow and ice, a long spit of the heroine, bright fire, dark – the room behind and the window frame. Masterfully depicts the burning of a candle with a strong light emanating from it on the window and on the appearance of the waiting one.
Artist Vasiliev earned fame as a master of writing folklore canvases. The study of ancient tales and tales, he filled his own soul knowledge of Slavic roots, their unprecedented fortitude. This powerful energy is now lurking in all his paintings, forcing people to hear the hidden strings of their hearts and stir up vague knowledge about their historic homeland.
"Waiting" draws a pure image of a Russian beauty, with faithful faith, waiting for her love.