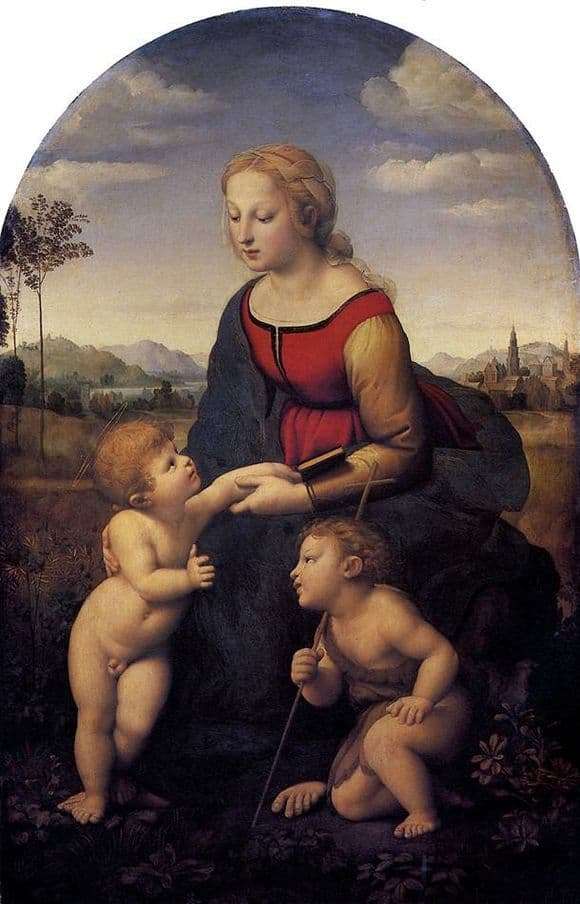 Raphael created this picture when he was already recognized as a master. Before the audience appears quite still a young Virgin Mary. Her whole image creates a feeling of calm and peace. Raphael portrays the beautiful Mother of God, her Baby and little John the Baptist. These three figures are becoming an organic addition to the landscape.
It seems that they are dissolved in it. Raphael prefers to write out all the details of this majestic landscape. He pays attention not only to the mountains in the distance, but also to the plants, as well as the walls of the city. They all rivet our attention. Two views of beauty are embodied in the Mother of God. She is beautiful not only externally but also spiritually.
On her face you can read an incredible love for her son. She is all glowing from this immense happiness. A baby in her eyes can read the same love for her mother. At the same time, it merges with boundless devotion. Virgin Mary slightly holds Christ, who trustfully leaned against her knee. He held out his hand to take the book. This motive was traditional for a similar composition. The views of the mother and baby intersect. On the right we see John. In the hands of his rod with a cross. He also looks at Christ. Above the heads of the figures you can see slightly noticeable halos. Rafael pays maximum attention to all the details. He deliberately fills the canvas with various details.
At first glance, it may seem that they are absolutely unnecessary here. But it is they who hold our attention. The freshness and harmony of colors is surprising. Mary's dress is bright red. This color was traditional for the image of the clothes of Our Lady. A raincoat of lush green color and a landscape of golden tones blends seamlessly with the transparent blue of the sky. Children's figures stand out against a dark background. The whole picture creates a feeling of lightness. It is as if saturated with light. It seems that this light comes from her, passing the audience a joyful mood.