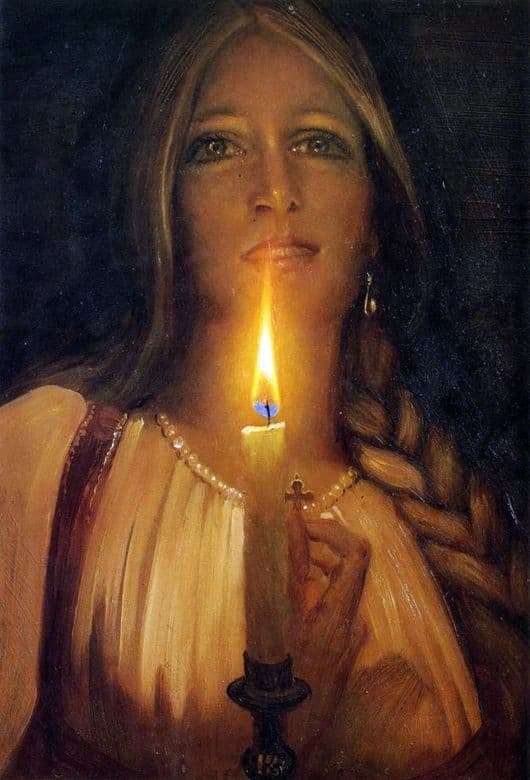 Before the viewer is a picture of Vasilyev, which depicts a girl of good appearance. By the name of the film "Divination" is not difficult to understand what this girl does. Due to the fact that the candle is lit, it can be understood that all this action takes place at night, as in principle most of the similar magical rites and rituals. In fact, it is surprising that the whole process of fortune telling is fairly accurately reflected.
The girl lit a candle, and sitting down in front of her holding her right-hand cross with a sinking heart, she expects the secrets of the future to be revealed to her. Looking at the fire from a candle, she tries to make out some of the images, and from her facial expression it is easy to understand about the hopes and anxieties that she whispers into a candle in the hope that everything will come true.
The girl has large, expressive eyes and a long braid, which she hoisted over her shoulder. The hair color is presumably light brown, but due to the flickering of the candle, it is difficult to make out. Vasilyev chose this image completely not by chance, it is a typical image of a Russian beauty who, in the times of the artist's life, in fact, rarely did such things and believed that if you perform the ceremony correctly, you can learn a lot about your destiny.
On top of the girl's clothes, it can be assumed that this is a sundress, but most likely her nightdress, since fortune telling was often performed at midnight, and it is unlikely that after that the girl gathered somewhere beyond her yard.
The glare of the candlelight illuminates her face completely and creates a shadow behind her. This candle symbolizes the last light of hope that all her wishes will come true.
It's not for nothing that the artist focused on the pectoral cross, thus it becomes clear that the girl is humble and God fearing, trusting the heavenly angels in the name of help.