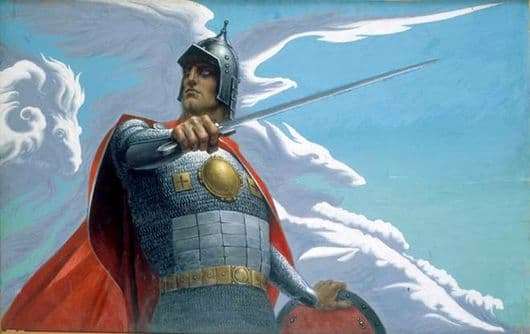 Vasilyev Konstantin Alekseevich – a modern brilliant master with a significant creative heritage, numbering about 500 masterpieces. Vasiliev was born in Maykop of the Adygei Autonomous Region, in 1942. Later, parents moved to a small village near Kazan. After graduating from art school, he began to teach drawing and drawing lessons at school. Also, moonlighted as a graphic designer. The creative heritage of Genius is sketches and graphics, paintings and illustrations, as well as paintings of the temple in Omsk. His first works reflect abstract expressionism and surrealism, but later, he retreated from the analysis of formalism, and worked in a more realistic style.
In a surrealistic style he painted landscapes, portraits, compositions, paintings of mythological, epic and battle genres. Vasiliev created many works on the subject of heroism in the Great Patriotic War, but the Scandinavian epics were one of the main roles playing in the creation of the next masterpiece. One of the best works of Vasilyev, reflecting all the power and greatness of Russia, is the painting "Russian Knight". The hero, depicted against a background of clouds resembling a pike, a ram and a falcon, stands in full combat gear, waiting for a fight with the enemy. His manly face and intense, focused eyes look into the distance, and the raised cold steel blade is ready to transform at any second into a fiery sword.
Knight's chain mail is framed by a large golden disk and side golden squares, which symbolizes the sun. The crosses depicted on the squares are the ancient symbols for the protection of the host from defeat. The helmet of a warrior is securely dressed on his head, its shape resembles the dome of an ancient church. Vasiliev scrupulously treated the image on his canvases of individual figures and drawings, after verifying all the details and based on historical facts.