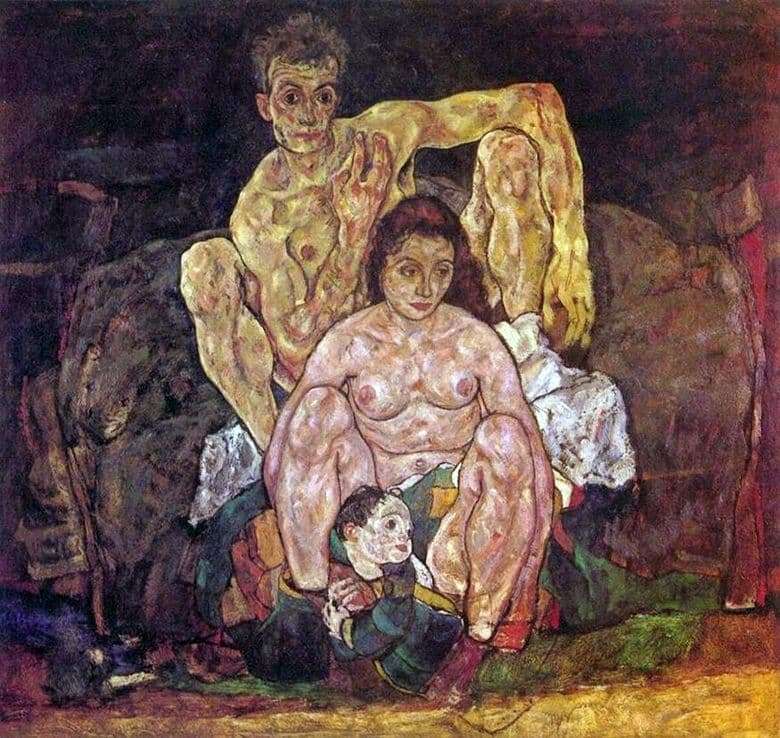 "Family" Egon Schiele is one of the most difficult paintings written by the author. In 1918, Europe was gripped by a terrible disease that killed more than ten million people. The Spanish flu has become a horror for every inhabitant of Europe.
In the center of the picture the artist depicted himself, his wife Edith Harms and their unborn child. Contrary to the style of Schiele, which is characterized by unnatural postures depicted by the characters that go beyond the picture, the main characters of this canvas are depicted extremely calm. One gets the impression that the artist predicted the tragic turn of events that awaits him: the pregnant Edith died from the Spanish flu in the sixth month of pregnancy, and three days after the death of his wife, Schilla himself departed to another world.
The skinny man at the top of the image sits quietly and looks right into the center of the picture. His expression does not express concern or horror; it seems he is just waiting for something. The skin of the man is made mainly in yellow and orange color, many places are underlined by a red shade. The man's left hand rests on his leg, and the man's right hand is scratching his shoulder. Below the main character depicts a beautiful naked woman. Her face also does not express anxiety: on the contrary, it looks quite calm and resigned. In contrast to her spouse, her skin is made mostly in pink with orange patches.
The pose in which the woman sits is a bit like the pose of a spouse. At the feet of the mother can distinguish a small child, looking to the side. He grabbed a pillow in small hands. The background of the image is extremely blurred, but you can guess that that the family is sitting on the couch or just a pile of blankets and sheets. Dark brown, red and gray color background dilute slight green and blue elements.
Heavy picture has become an illustration of the word "Spanish". The languid expectation of the inevitable, the humility with pain and loss – all this was conveyed in the image by the master.