Description of the painting by Henri Matisse "Family Portrait"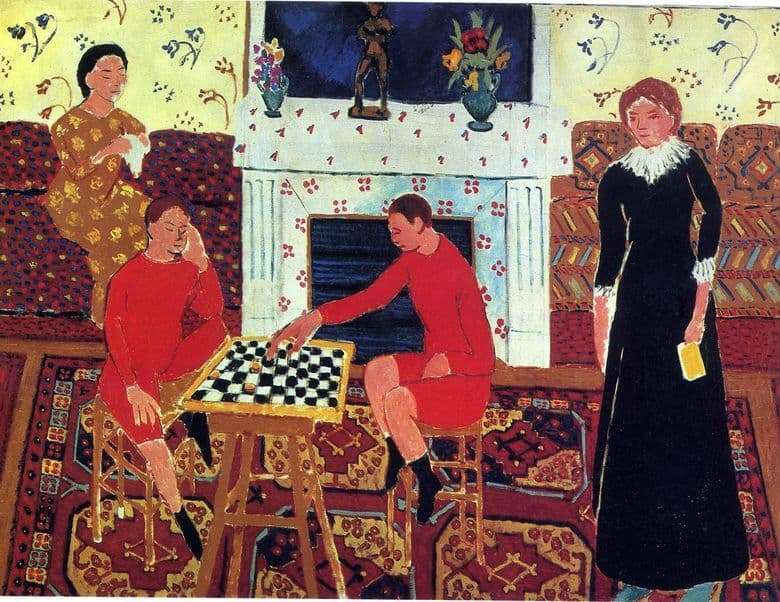 This picture of the artist differs from the others in that Mathisc never used the image of life and interior in his works. In the picture you can see how the family members of the artist are busy with their household chores. For example, the wife is depicted on embroidery, the sons of Henri Matisse are playing chess with enthusiasm.
Particular attention attracts his daughter Margherit. If you look at the picture, you can see that the proportions in it are violated, probably the artist thus tried to show the usual situation without unnecessary embellishment and formalities. The picture is perceived by the viewer at ease and easily, thanks to the prevailing situation on the canvas. Mathisc uses a very unusual technique, avoiding small details, he is able to show the viewer a complete picture and to give pleasure to every person who looks at this masterpiece.
Using rich and beautiful shades of colors, the artist created a whole composition of interest and peculiarity. The handwriting and drawing technique of this artist is very unusual and striking – Henri Mathisc does not use the complex technique of combining shadow and light, the figures have more saturated colors, which are designed to give a mood to his audience.
Objects that are depicted in the picture are unclear and indistinct, and they do not need clarity; it is important for the artist to convey a complete picture that differs from others in its softness and ease. To give completeness to the picture and draw the viewer's attention to the center of the picture, the artist uses a combination of white and black.
The painting "Family Portrait" is a real masterpiece, distinguished by its technique and unusual combination of bright colors. The artist showed that even on an ordinary day, with his family, one can enjoy the evening and showed it in his picture.





(
2
votes, average:
3.00
out of 5)
Description of the painting by Henri Matisse "Family Portrait"