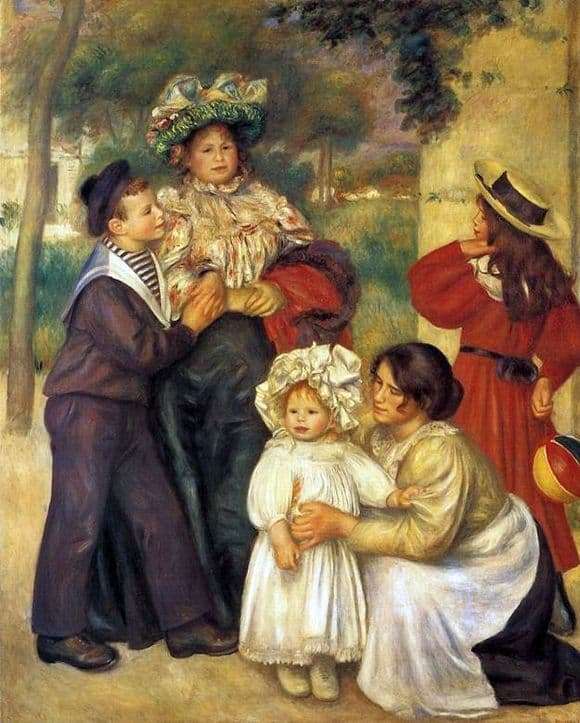 French impressionist Pierre Renoir became famous as a master of a secular portrait. Wealthy Parisians fell in love with the painter for his sentimental paintings. The artist depicted colorful, bright, joyful landscapes and faces. In 1896, his family was depicted on canvas with oil by Renoir.
"The family of Renoir" includes 5 people in the picture. In the very center we see the wife of a French painter, Alina Sharigo. A young lady with a healthy blush is wearing a long skirt and a fluffy blouse, and a beautiful volumetric hat is on her head. The eldest son, Pierre, embraces a woman's hand. A densely built boy dressed in a navy style suit. He thoughtfully looks away.
On the right, the artist's middle son, Jean, turns his back to the audience. He holds a multicolored ball in his hand, with his second hand straightens his long hair. It may seem strange dress on the boy and a similar hairstyle. But in those days in France it was commonplace. In the custom it was even braided boys in the hair bows.
The smallest character in the picture is the son of Renoir Claude. The red-haired, plump child is dressed in all white: shoes, dress and cap. Next to him, it is easy to guess, the nanny of Renoir – Gabriella. She also had a cousin to the painter's wife. The girl in the snow-white apron and with a neat haircut. The author included it in the portrait as a very important person for the family. He also often painted Gabriella in other paintings, as she served as a model for Renoir.
Family idyll in the picture gives the impression of complete well-being. The figures are located on the background of dense green spaces. In the field of view included fragments of urban buildings.
Spring leisurely walk in the lap of nature is an excellent motive for the impressionist canvas. The artist caught the moment when his family is enjoying leisure time peacefully.
The painting is now in the USA, in the Museum of the Barnes Foundation.