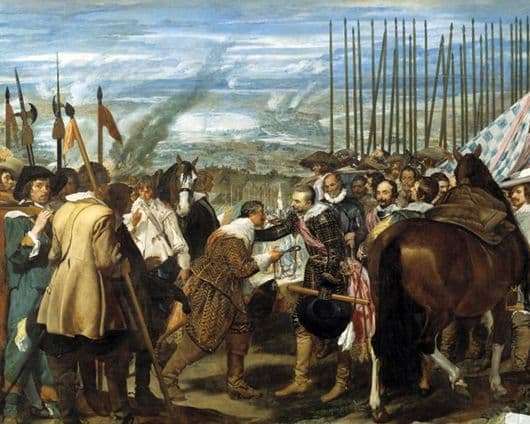 The famous painting of the legendary Spanish artist of the XVII century, Diego Velázquez, entitled "The Delivery of Breda", was written by him in 1635 based on real historical events that took place in Europe during his life. The painting itself was intended for the so-called Great Hall of the new palace of King Philip IV of Buen Retiro, who ruled Spain at that time.
The plot of the picture was completely built on historical events, and the actions unfolding on it were connected with the then situation around the Breda fortress, located in the Dutch province of North Brabant. It was in this city that a well-known compromise was signed about the protest against religious persecution of King Philip II, who was accused, in fact, of blasphemy.
It was Breda's fortress that was the center of the armies of many European countries for dominance in the region during the so-called Thirty Years War, which lasted from 1618 to 1648. During all this time, up to the ascension to the throne of Spain, King Philip IV, Breda passed from hand to hand several times during military operations.
It was in the first years of the Thirty Years' War that the Spanish troops, who fought against the army of the Republic of the United Provinces of the Netherlands, achieved quite significant successes, as a result of which a very large number of Dutch territories went to Spain. In addition, after that, Spain successfully opposed its other opponents, including the British and the Portuguese.
The picture shows an important moment of handing over the keys to Brad's fortress to Spanish commander Ambrosio Spinola, who was able to achieve such staggering success for his country. Although, after a short period of time, Spain was weakened economically by the war, and it had to give up a number of its conquests, including in the Netherlands.