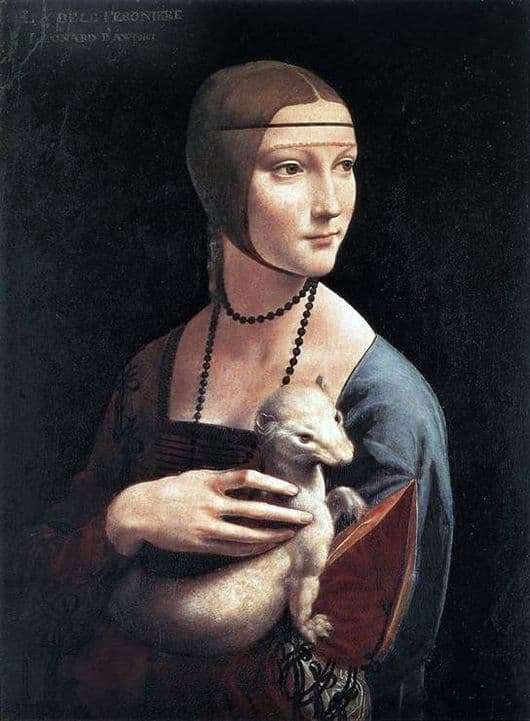 The Lady with an Ermine was written by Leonardo Da Vinci towards the end of the 15th century. It is assumed that the girl depicted in the picture is the favorite of Lodovico Sforza Cecilia Galleroni. Just in the years of writing a picture of Leonardo was in the service of the duke. "The Lady with an Ermine" is a kind of real breakthrough in the art of the psychological portrait of the time.
This picture was painted in oil on wood, which was a novelty for Italian artists in those times. I must say that Leonardo da Vinci was among those who actively used all sorts of innovations in their work. Another important distinctive feature of the picture is the position of the girl with the animal: her figure is depicted at three-quarters, and her eyes are directed to the side, that is, they do not look at the viewer. This kind of discovery also belongs to Da Vinci. Another interesting fact is that in the hands of the girl is not an ermine, but an albino ferret. So why the picture is called the "Lady with an ermine"? Rather, because the ermine in Greek sounds like a "gale", which is quite consonant with the last name Galeroni.
Such a small nuance does not play a significant role, since in those times they did not attach much importance to the species of the animal: if a rodent is with a long tail, it means an ermine. I must say that a fragile girl, who has a wild animal in her arms, which is also poorly tamed, looks pretty impressive and beautiful. It is worth paying attention to the features of the girl, as if they are carved out of white marble. A transparent cap and a thin necklace on the neck only emphasize all the tenderness and elegance of this beautiful lady, and light thin fingers barely touch the little animal, who dutifully sits in the arms of his mistress. In general, the whole picture is imbued with sublime feelings that are caught in the look and pose of the girl. Currently, Da Vinci's painting "The Lady with an Ermine" is in Poland in the Gallery of Chartoryzhskys.