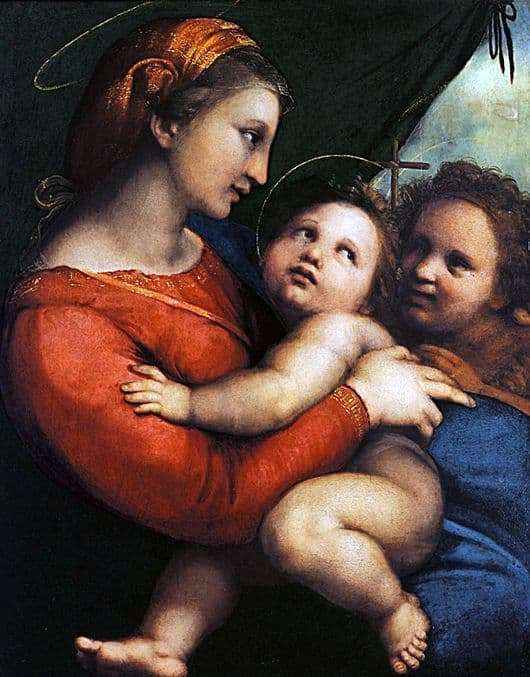 The famous Italian artist Raphael created his painting "Madonna in the tent with the Child and little John the Baptist" in Rome in 1514. It was already a mature period in the works of titan of the Renaissance, when he mainly worked on frescoes. The canvas of Raphael received such a name because of the tent, in which the Mother of God and the Infant Christ are located. The picture is made alive and bright, warm colors.
The face of the Madonna is thoughtful and beautiful, she looks at her son with tenderness, care and love, her whole appearance is perfect and at the same time full of earthly fascination. In this picture, she bows to the newborn Christ, looking at him with the deepest motherly love. Little Christ, holding his hand on his mother, still turns around, feeling behind him John the Baptist. Madonna's clothing artist depicted in the traditional red.
Standing behind Jesus, little John the Baptist appears to the spectator joyful and happy, he looks at the Mother of God with admiration. The thin mantle, as well as the color scheme, consists of iridescent shades, which indicates the influence of Venetian painting. The viewer, looking into the frame, feels the graceful movement of the heroes of the picture, which gives a special harmony to the work.
Rafael was rightly considered the master of the Madonnas. He always believed that motherhood is the most significant thing that can be in a woman's life. With his painting "Madonna in the tent with the Child and little John the Baptist" he sings a song to motherhood and to all kind, happy, touching mothers.
Madonna in this picture is the goddess of femininity, beauty and goodness, which was created to improve the world. Softening human hearts, he gives people spiritualized harmony, developing a divine principle.
Currently, the picture is in Munich, in the old Pinakothek.