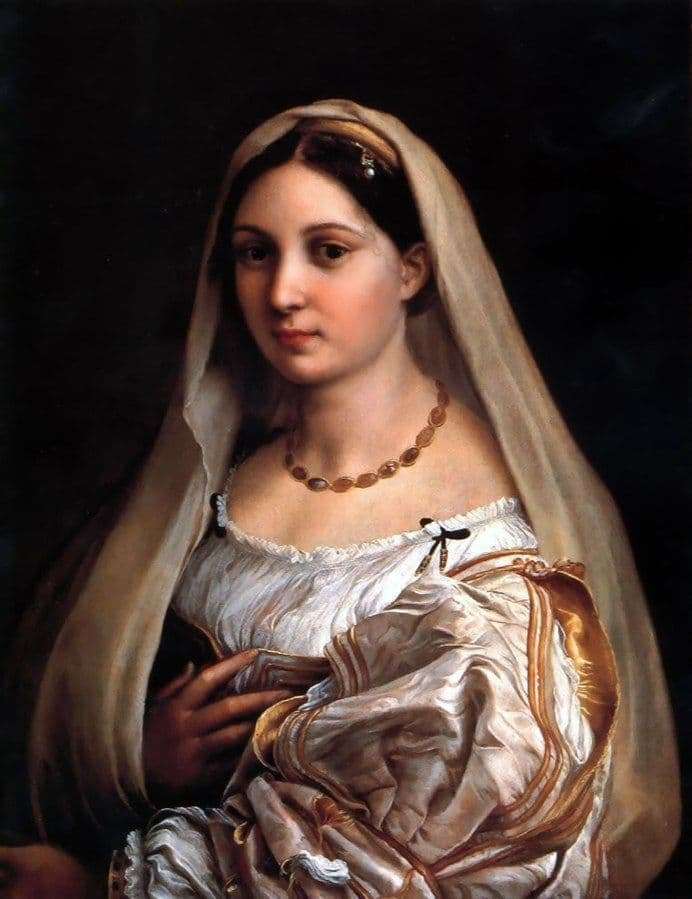 Rafael Santi is a great Italian artist who discovered the sensual world of love and admiration. He painted the painting "Dame Velata" during his creative maturity, which glorified him to incredible heights.
The story of this picture begins with a big love. For a long time the artist could not find a model for a portrait until he met the simple daughter of the baker, Margarita Luthi, who later became his life partner for many years.
Santi wrote with her many paintings, where he sang the simple and natural beauty of his beloved. For example, the fresco "Cupid and Psyche", "Fornarim". "Lady with a veil" is closest to the spiritual state of the artist in this period of his life. Moving away from the usual for many biblical scenes, he transfers all his strength to the themes of ordinary, but mysterious life, with its joys and sorrows, appearing every time.
The painting depicts a girl who has just begun to grow up and become a woman, but already full of love and hope, filling her. Black expressive eyes attract the beholder to him. The artist perfectly picked up the clothes of a model that looks delicate white skin not only rich and luxurious, but also adding the mysterious features characteristic of all girls. Also, clothing does not overshadow the beauty of nostalgia and inner peace.
The picture is imbued with deep love: the tenderness of the lines, the bending of the neck, and most importantly – the location of the hand next to the heart, the symbol of the answer to the question: "Do you love me?". Margaret for centuries remained the only and last love of the great and talented painter.
The colors in the picture are chosen light: there is a feeling that the girl is glowing from the inside, shining with love and around her a gentle aura of kindness, harmony and warmth.
On canvas, Margarita was perfect, but in life there was no destiny. The fact that the artist sang, remained greed and pride.
Later, Raphael begins paintings with children, but the girl could not give birth to an heir and, therefore, become a full-fledged wife. The Holy Father, who came on the last day of Raphael, left after seeing the illegal spouse.