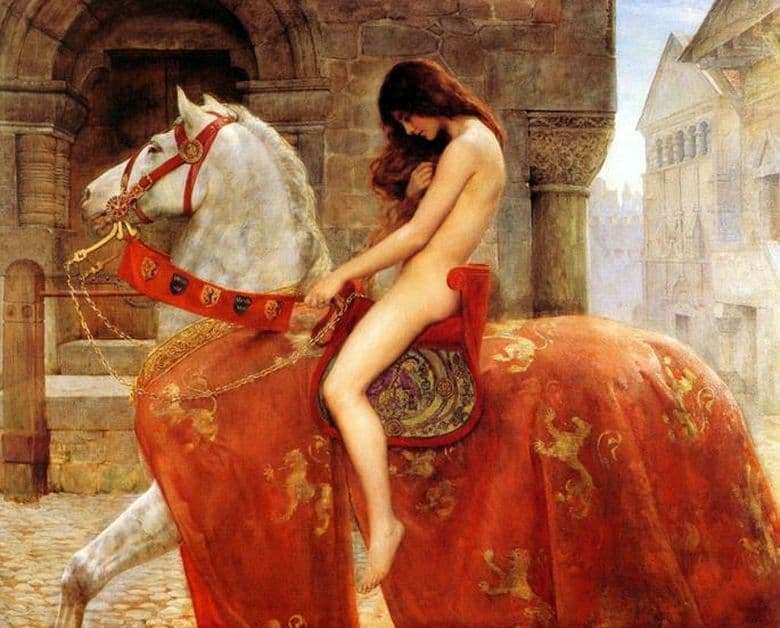 Year of creation – 1898, oil on canvas. Located in The Herbert Art Gallery &; Museum, Coventry, UK.
The artist belonged to the direction of pre-Raphaelites, which appeared in English painting from the 1850s. They sought to get away from thoughtless academism, idealizing the image and a limited choice of topics. At the time, this meant going against the Royal Academy of Arts, therefore, was subject to great criticism. One of the main features of the new trend was the desire to write people from nature.
The painting depicts the moment of a legendary story that happened in Coventry in the middle of the XI century. Local residents are supposed to so suffered from excessive taxes that Lady Godiva came to her husband – a rich earl Leofric – ask for them. Being drunk, the man agreed under the impossible condition for her – to drive around the city naked.
However, the noble lady put the needs of society above their pride and honor. People loved her so much that on a certain day they did not take to the streets, closing all windows and doors. So, unnoticed by anyone and covered only by her hair, the maiden rode through the city. However, this whole story is most likely a beautiful fiction.
Collier in his painting, unlike most writers, painted a beautiful red-haired Godiva confused and scared crazy ride. Despite her action, she is graceful and innocent. Nudity and the fragility of its figure contrasts with the ornate blanket and harness, horse muscles, which are particularly well-drawn on a powerful neck. The painter surprisingly accurately reflected on the canvas and many other details.
In the background, uneven stonework and jagged pillars look truly ancient. The viewer sees each link gold chains and emblems on the occasion, a great pattern of purple and greenish-yellow in the saddle, floral ornament and gold braid British royal lions on horse blanket. Also noteworthy is the magnificent color scheme, which takes into the distant past, and composition,