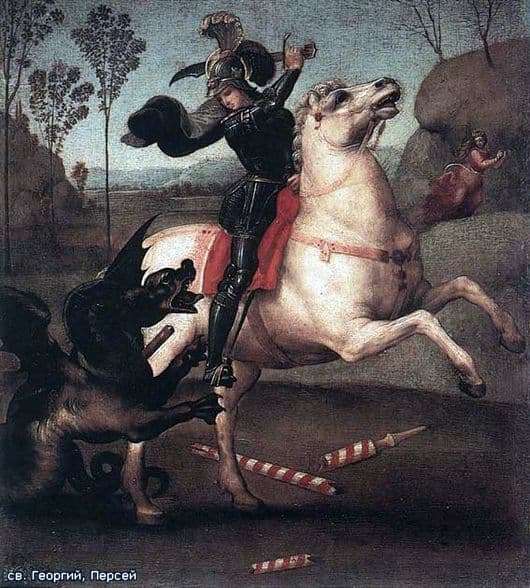 St. George in the picture of Raphael does not look like the way we used to see and represent him. We rely on the Orthodox icon-painting traditions, and therefore we have already formed a certain image.
However, at Raphael we see a knight clad in armor. He seems invulnerable, but the face of the saint is open, he does not hide him under the visor. It seems that George is unshakable in his decision to hit the dragon, which brings many troubles to people. The horse reared up is already frightened, but the rider continues to execute the massacre of the adversary.
The enemy of the saint is depicted not at all aggravated with anger, on the contrary, he is cunning, disloyal, he has the sight of the tempter. He realizes that before him is a fearless knight, who was not even stopped by the fact that his spear was broken in pieces. George swings at the dragon with his sword, and he as if tries to offer the soldier a deal: bestow treasures and divide the booty in half, but only so that he leaves his life.
In the background, the rock is visible rushing girl. Who is she? Why with bated breath watching the fight? According to legend, this young beauty was sacrificed to a bloodthirsty monster who had already managed to exterminate all the sheep in the city.
At first, the townspeople offered unlucky animals to the dragon, but the beast did not get enough of them, began to devour the people sent to be slaughtered. And only St. George decided to enter an unequal battle, entrusting his fate to the Lord.
We know the continuation of the legend: the brave warrior has dealt with the rotten serpent. But at that moment the girl didn't even imagine what the dragon could do with the man who entered the duel. After all, the monster has already claimed so many lives! But still a second – and the head of the fire-breathing creature, cut off by George's sword, will fall to the ground. And the beauty and the whole city will be saved.