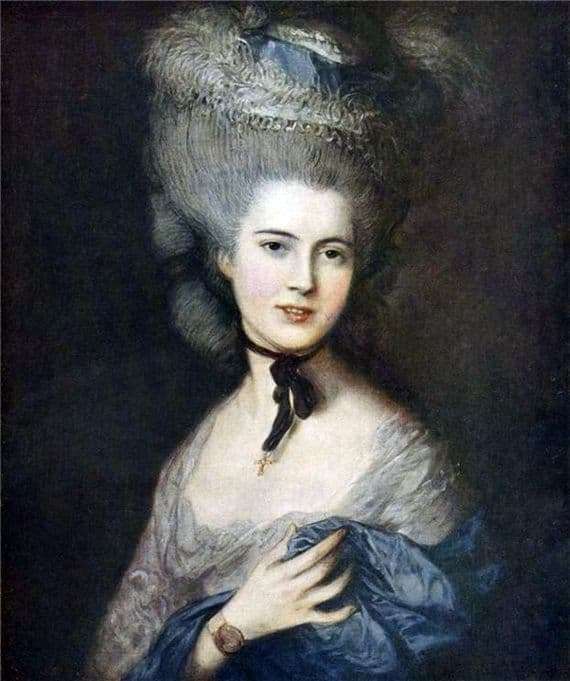 Thomas Gainsborough is one of the most famous portrait painters of the late IIIVX century. The painting was finished by the artist in 1780, painted in oil. The original picture is currently kept in the Hermitage. The artist was distinguished by a special property to harmoniously select paints for the image of secular people in his paintings. The artist enjoyed particular popularity among the English nobility of that era.
The name of the lady posing for the artist, still remains a mystery to researchers of the artist. There is an assumption that the duchess de Beaufort was this mysterious aristocracy, but no true evidence was found for these facts.
Pay attention to the fact that the picture is made using cold shades. Blue in abundance is used to depict a long shawl, which covers the lady of a part of her light dress, the duchess's hat also has a blue color. The impression is made, as if the thick, strongly powdered hair of a young lady also has a bluish tint.
The snow-white color of the young girl's skin will make any person admire. The artist maximally displayed the external features of the young person and seemed to be able to convey her inner state through fine details of the image. Outwardly imperturbable, with a mysterious, piercing look dark brown eyes. Dark, thin eyebrows and a small healthy ruddy of young cheeks. The curls of the ladies are arranged in such a way that the observer sees how they touch the tender shoulders from behind. And at the end of a dark silk ribbon tied under his chin, one can see a golden crucifix.
The girl's scarlet lips are slightly open, exposing pearl-white teeth. Thin fingers lightly hold the shawl, which fell from the girl's fragile shoulders. The aristocrat gently holds her, looking somewhere off into the distance.