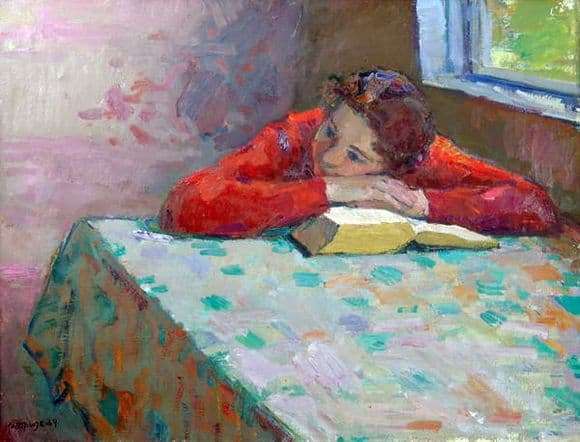 I. Dreeze – a bright representative of the classical school of Russian painting. He painted many portraits of famous people of his time, but became more famous for his landscapes and still lifes.
In his work he used his individual style, his paintings are recognizable, many paintings were sold to private collections abroad. One of such characteristic works is the painting "Behind the Book". This canvas reflects the dreaminess of the girl, her purity.
The decor in the room is very modest: a table covered with a tablecloth and a window without curtains. But the main value of this composition is the book. Today in the modern world of computer technology it is difficult to estimate the value of such a treasure, but half a century ago it was not affordable for anyone to buy a book.
Perhaps this is a library publication, but this fact does not implore its values for a girl. She dreamily laid her head on the source of her raging fantasy. Her folded hands speak of peace and harmony, so the plot of a book story does not cause a riot of negative emotions and anxiety. She dreamily looks away, and her lips are folded in a slight smile. It is not known what exactly the girl read, but obviously she liked the plot.
Despite the modest furnishings of the room, the painter gave the work a rich color gamut. A plain wall plays with color highlights, and the tablecloth generally resembles a bright flower field.
Perhaps, thus, the master transferred the girl's dreams to ordinary objects. He looked through the prism of her fantasy and displayed very accurately her condition. The world has become bright and inviting, everyday life and dullness left this room.
The artist says to everyone that the colors of the world around depend only on ourselves, that we draw our life and paint everything that surrounds us. Everyone has their own world, the heroine of the picture, he is so and her peace says that she is comfortable in it, she feels harmonious.