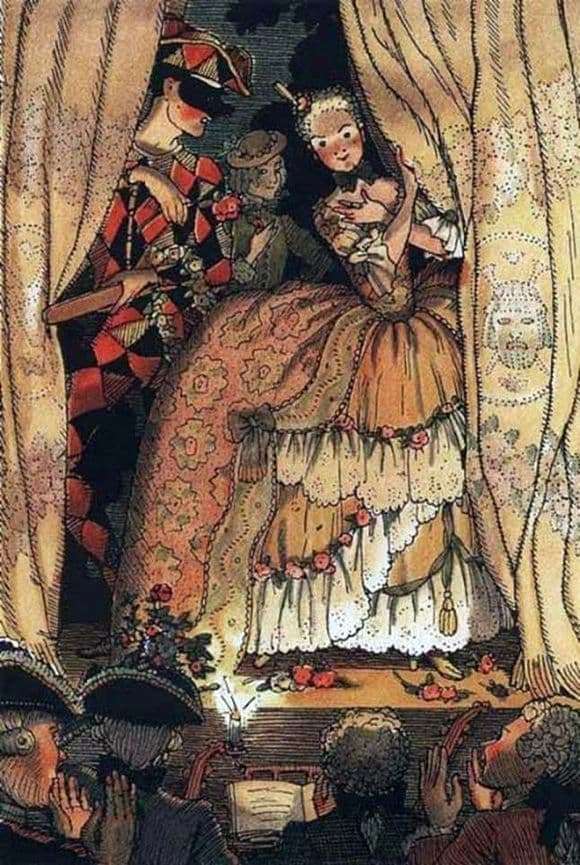 Konstantin Somov – a famous Russian professional in the genres of landscape and portrait painting is also famous for its unique book graphics.
One of the illustrative examples of this art is the "Book of Marquises". In addition to the illustrations of Somov, the edition contains poetic and prose works of France of the 18th century. Both drawings and texts have a pronounced bold erotic character. What is the name of Casanova on the pages of the book!
The collection includes fragments of works by Voltaire, Étienne, Guys, Laclos, and other well-known and anonymous masters of love literature. The genre orientation of the passages is from sublime innocent lyric poetry to frank records from personal diaries and frivolous jokes.
The Book of Marquises was published three times, however, and still remains a bibliographical rarity.
The first printed edition dates back to 1907. Place of publication – Germany, Munich. This is the most self-contained collection, clipped by the strict rules of the German censorship.
8 sketches of Somov were admitted for publication. On the "Walk" in front is the Marquis with a small dog, at a distance – ladies and gentlemen frolicking at a picnic. Other illustrations depicting the private life of the sensual, charmingly shameless society of the Rococo period are also interesting.
In 1918 and six months later in St. Petersburg two reprints were published. With each release, the text collection of poetry and prose was replenished, censorship weakened, giving Somov the opportunity to boldly reveal the talent of the illustrator. Now in French, the book has shown at times shocking erotic scenes.
Images of the stages of the novel of the main character – Awnings – drawings with a stroke, painted in watercolor, and monochrome silhouettes for their time were a real breakthrough in the field of erotica, but they are still valued today. This is evidenced by additional editions of the book in 1996 and 2005.