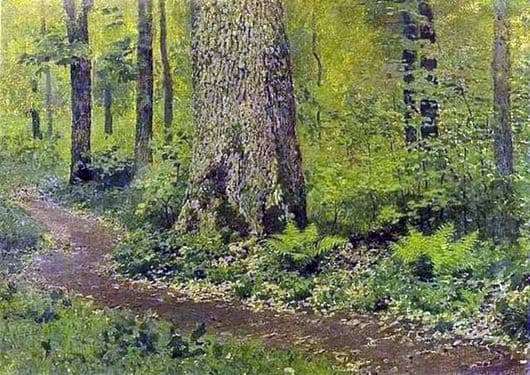 The heyday of Isaac Efimovich Levitan is the year of 1890 – the period of recognition of the artist by the society of connoisseurs of pictorial art. The life of the artist at this moment was filled with sadness and tragedy.
This is probably why we see the hue of dramatic images that are present in his masterpieces. Levitan focuses on the memory of the imperfect real world, his soul becomes restless, and pours all the emotions on the canvas. The landscape painter performed many works, not without bright colors and joyful motifs. One of the works of Isaac Levitan is "The path in the deciduous forest. Ferns "- the image of a dense forest, with a footpath thinned from grass.
Forest beauty has long been fascinated Levitan, so whenever possible, he tried as best as possible to perform realistic paintings depicting the forest. Deciduous forest is shown so thick that it seems impossible to find a way home. The artist reflected all the difficulties in a simple image of a green thicket.
Levitan enthusiastically draws with a brush a winding path that leads to an unprecedented distance. A set of green paints makes the forest immaculately real and alive. The viewer seemed to be alone with the quiet and calm nature. Here come thoughts that give pleasure not only to the artist, but also to other connoisseurs of beautiful landscapes.
Isaac Levitan – recognized by all artistic figures who occupied a worthy place in society. The artist's works bear a confidential and pleasant impression of exactly where a person is left alone with nature.
Most often, Levitan was told about "the draftsman of nature" – the author who is inseparable from the natural motives of the surrounding world. A complex color scheme is inherent in all his works, the quality of technology gives harmony to all creations created in the era of this time.