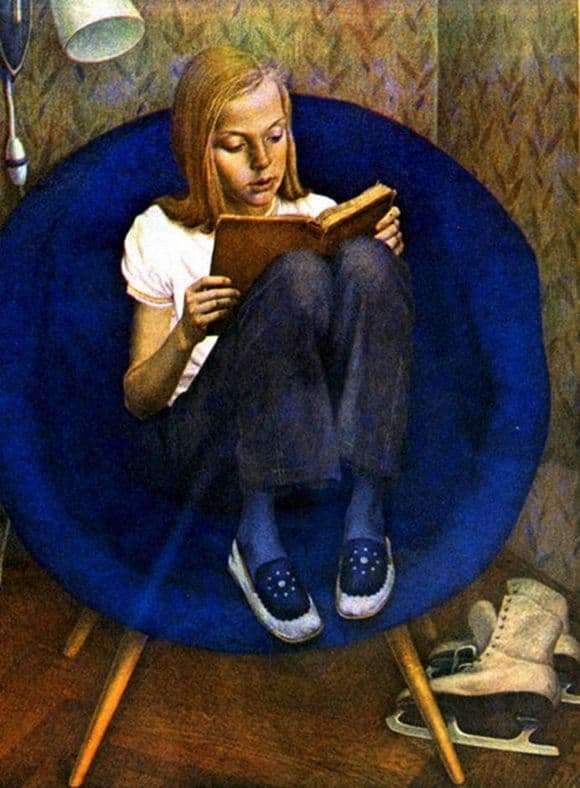 Picture Khabarova quite interesting. We see a girl who is keen on reading a book. All her attention is absorbed by this process.
The girl nestled in a chair with her legs straight. On the right we see the skates, which are carelessly laid. For this detail, we can assume that Mila recently walked and is now back. She quickly took off her skates and immediately continued reading an exciting book. Above the chair is a small lamp. Light from her falls on the book.
Khabarov depicts a girl in bright colors. Mile is wearing a white T-shirt and blue jeans. So all teenagers dress at her age.
Before us is the most common heroine that the artist does not embellish at all. For surrounding objects, he chooses a dark tone. The girl's figure stands out sharply against the blue armchair. White skates become a bright spot on the background of a dark floor. The artist creates a visible contrast. This technique conveys the helplessness of the heroine and her incredible touchingness.
Before us is really an original picture. Nowadays, a girl with a book is a rarity.
It is necessary to consider the face of Mila. She is thoughtful and focused. The nose of the heroine has the correct form. Blond hair scattered over the shoulders. The girl is very keen on reading. Her mouth is a little open.
The artist uses a clear compositional technique. The girl's figure is located in the center. A round chair becomes a very expressive spot on a brown background. Khabarov skillfully puts accents. He highlights in color those details to which the viewer should pay attention. Brush strokes are juicy and natural.
The painter managed to create an incredibly lively portrait. It turns out that in the most ordinary scene of reading a book there is a charm. Khabarov was able to convey the enthusiasm of the girl, which is seen not only in her pose, but also in other objects of this unusual canvas.