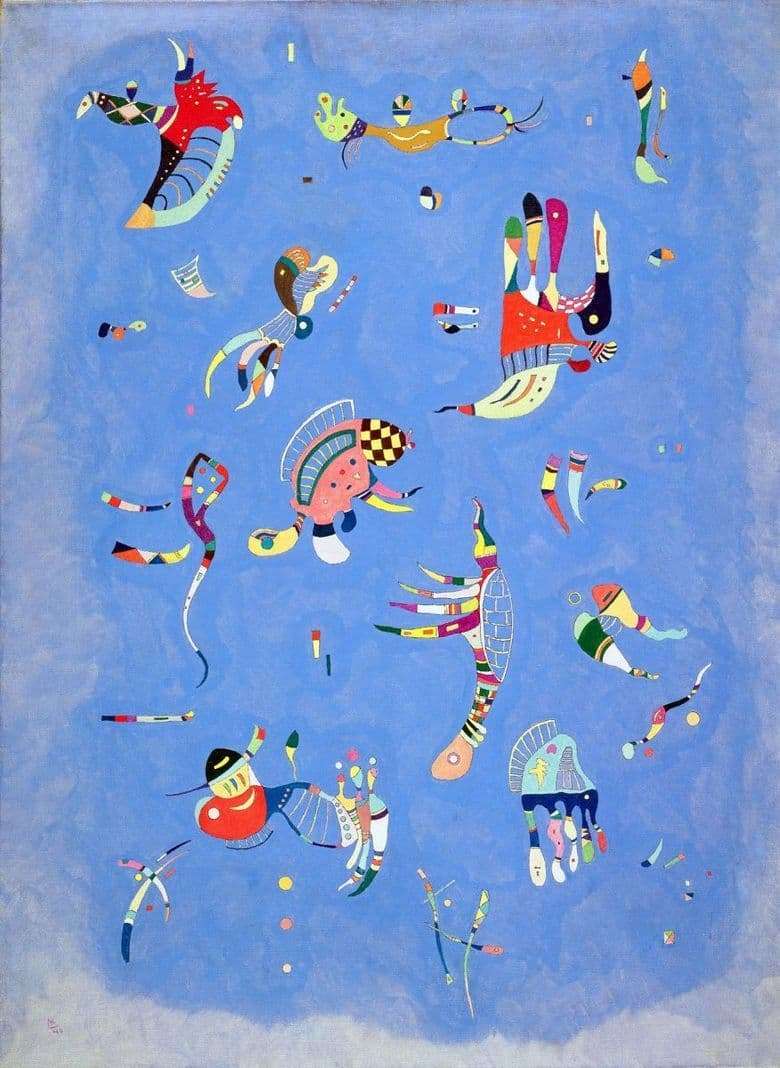 Vasily Kandinsky from childhood had talent. Despite the fact that he learned to be a lawyer, received the title of assistant professor, received the right to teach, Vasily takes a willful decision and becomes an artist. The turning point in the life of the future artist was an accident. After Kandinsky saw the picture of Claude Monet, he decides to paint himself. His first paintings were made in the genre of impressionism.
The picture that looks like a cartoon is the painting by Wassily Kandinsky "Blue sky". Since ancient times, blue has occupied an honorable place among other colors in art and culture. Blue is a space that has no clearly defined boundaries. Kandinsky considered blue – the color of peace and depth. Dark, saturated color as if calling for itself into infinity.
In the painting "Blue Sky" graphic severity gives way to baroque motifs. In the picture we notice some creatures – these are strange shapes that seem to float across the sky. The artist did not even try to soften the bizarre and grotesque effect of the picture. The figures are moving, smiling. We notice a rather strange figure that looks like a kite – it stares in surprise at us. Every creature smiles. We smile back at them.
Looking at the creatures, we can not understand the sky or the sea. Creatures are similar to fish, squid and jellyfish. Kandinsky did not give definitions to them. Left it to speculation and fantasy viewers.
The picture does not apply to abstract paintings. We do not see here aggression, hidden conflicts.