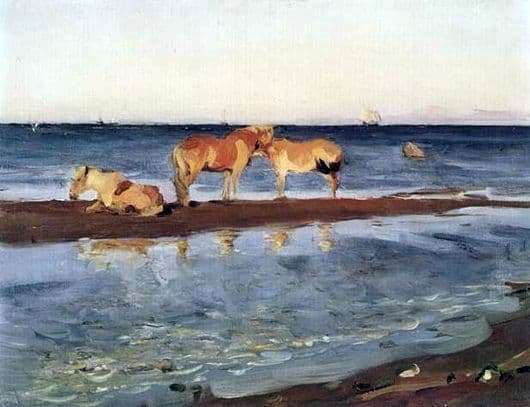 The painting was painted in oil on canvas in 1905, it refers to the late work of the artist.
Serov was a master in portraiture as well as landscapes. Many paintings depicting politicians.
Painting style: realism.
The painting was painted on the shore of the Gulf of Finland, where he bought a house for his family. Serov liked this place when he was passing through the Gulf of Finland in the summer of 1899. Two years later, he bought a plot on which there was a house.
Serov's family often came here during the summer months. This place was his inspiration and comfort. Horses for artists have always been especially loved, because they personify the power, grace, kindness.
For many millennia have been a reliable and loyal friend of man. The image of horses, as well as people is very difficult work for the artist. In the picture of Serov, you can see horses at a watering place, as if they were alive. The tail stroke of one of them gives a realistic look to the landscape. Horses are depicted with refined lines, which was a strong feature of the artist. In the distance of the Gulf of Finland ships sail with sails.
The picture is not different riot of colors, but filled with serenity and contemplation. The bay is depicted in a combination of shades of blue, violet, white and gray, which accurately reflects the coldness of the water surface. Somewhere in the distance, through a light haze, you can see the mountains.
The sky is depicted by gray non-ordinary colors. He did not use the usual blue and white shades. His colors are special. The picture creates impressions of the general unity of the water and air elements, only the horizon violates this integrity.
The painting is in storage in the museum of St. Petersburg.
Serov left for our country a significant cultural heritage. Even in the later years of creativity, when Serov had to visit the city a lot, fulfilling orders, he did not give up his love for rural landscapes and nature.