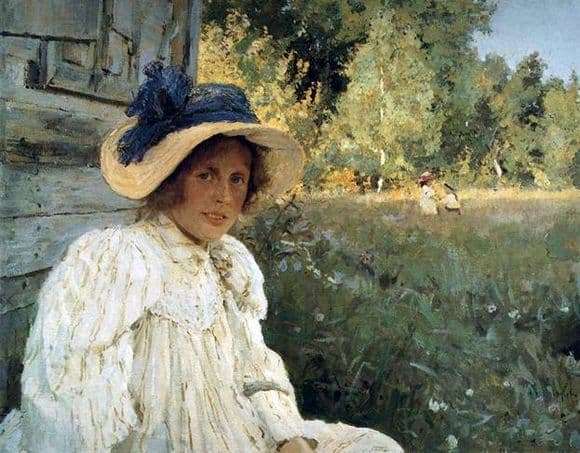 Seven years later, after the picture "The Girl Illuminated by the Sun" was published, Valentin Serov wrote another impressionistic painting "In the Summer", in which he depicts his beloved wife Olga. Here we see the plein-air portrait of a woman in a light white blouse saving from the summer heat.
Olga's calm posture conveys her inner balanced state, her portrait is in harmony with the outside world. Behind Olga, the children frolic in the lush grass, not yet tired from the morning heat. The splash against the background of Olga Serova is depicted very airy, dynamically, we can feel the rustle of birch leaves, stirred from a light blow.
If you compare the picture "Summer" and "Girl, illuminated by the sun", then, first of all, you can see what the artist has emphasized, depicting his wife in the shade of a wooden house. First of all, we see precisely written out, small features of the face, detailing of its soft but penetrating image. The fields of the straw cap cannot hide the depth of the blue eyes of Serov's beloved wife, her image is full of tenderness and care.
Some slouching, tightness is visible in her image – but this also represents the special charm of her portrait, as if she were accidentally captured on a camera while she was enjoying the view of the pond or a glade of their favorite summer cottage. Serov portrays Olga Fedorovna modest, timid and somewhat shy, just as she really was. For Serov, his wife is the most fragile and tender creature in the world; this can be understood by the manner in which her image is created.
The feeling of true summer heat, sunlight, silence of the forest in the summertime is filled with the composition of the painting "Summer" by Valentin Serova. His work was done with a great inner spiritual contribution also for the reason that he portrayed the most important people in his life who never left him. The paintings are permeated with ease, the charm of a happy children's pores and, of course, love.