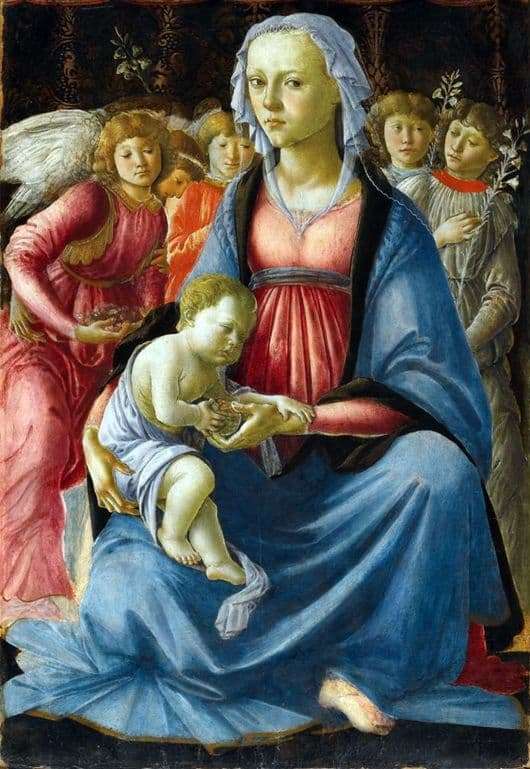 The image of Madonn passes a wide line through the entire career of Sandro Botticelli. There are about 15 paintings, where Madonna is present.
"Madonna with a baby and with five angels" refers to the early works of the master and was written in 1470. Botticelli's creative independence during this period was not yet strong, and the influence of the master teacher, Filippo Lippi, is felt in the picture.
True, Botticelli still brings an innovative touch to the image: his Madonna is elongated, his hands are thin and elegant. On the head of Madonna, a blue veil, flowing in soft folds. Her loose-fitting clothes, wide, gently fall to the floor. The drape of the robe fits Madonna's body. The robe itself is soft blue and red-pink flowers.
The image of the Madonna with a child in her arms is very gentle, she looks fragile and feminine. Behind Madonna are five angels, standing closely huddled together. They are like wings behind her back, are responsible for her life, physical and spiritual. They are also a symbol of faith and humility of the Madonna before God. Her gaze is directed straight at the viewer, he is serious and somewhat dreary and expresses uncertainty. The baby is sleeping on her arms, wrapped in a canvas, holding her hands with love and hope. The psychological connection between mother and child is delicately indicated through a subject that summarizes them, which both characters hold on to.
The heroes of Botticelli's painting "Madonna and Child with Five Angels" are in a small closed room, nothing is depicted on the canvas except for their figures, there is simply no place left. Everything is as close as possible and close to the viewer.
The picture leaves the impression of thoughtfulness, slight sadness. The light falls on Madonna and the angels, but the distant plan is highly darkened, it is a dark curtain painted with a gold pattern.