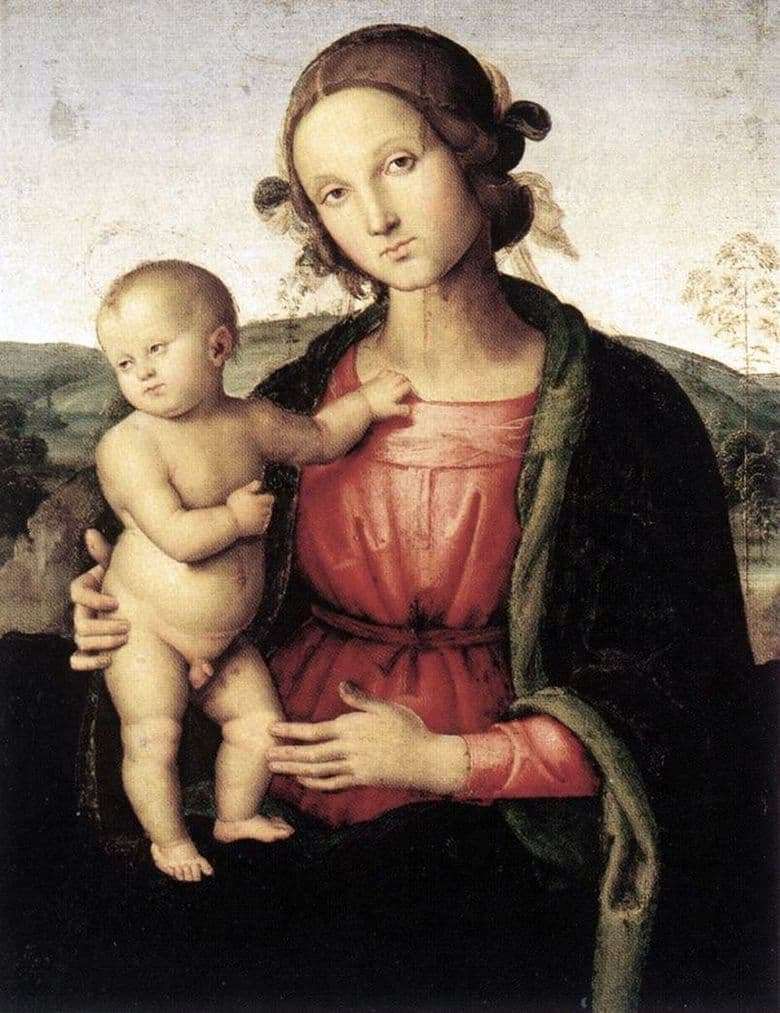 Pietro Perugino is a Renaissance artist. We know almost nothing about the early years of the great artist. The real name of the painter is Pietro Vannucci. Perugino is his nickname with which he was awarded for his residence – the city of Perugia. The main feature of the artist is his ability to smoothly transfer all compositional rhythms, lyricism of landscape backgrounds.
In the collection of works of Perugino there is a large number of canvases depicting the Madonna. The painting "Madonna" depicts the Virgin Mary with the baby. The artist has depicted the Nimbus above her head with a thin contour line in the form of points. The ornament at the collar of the dress is also transmitted by a thin contour. To date, we know about other versions of this picture.
Perugino often depicted Madonna and Child in various versions. In Germany, the collection contains a picture where the baby is depicted sitting on the knee of Madonna. In the collection, which is stored in Italy – the baby is on her left knee. The pose of the infant, where he stands on the knee of the Virgin, is the most common among artists. It was repeated many times by the students and followers of Perugino in their works.
A characteristic feature of the paintings of Perugino are elongated figures, with a small grace. Their head often leans gently on the shoulder. Face filled with sentimentality. The artist tries to use in the images on the altar the symmetrical principle of construction, in which the central part is always assigned to Madonna, and the saints are depicted in the lower part of the altar.
In the history of art, the painter entered as a mentor of Raphael.