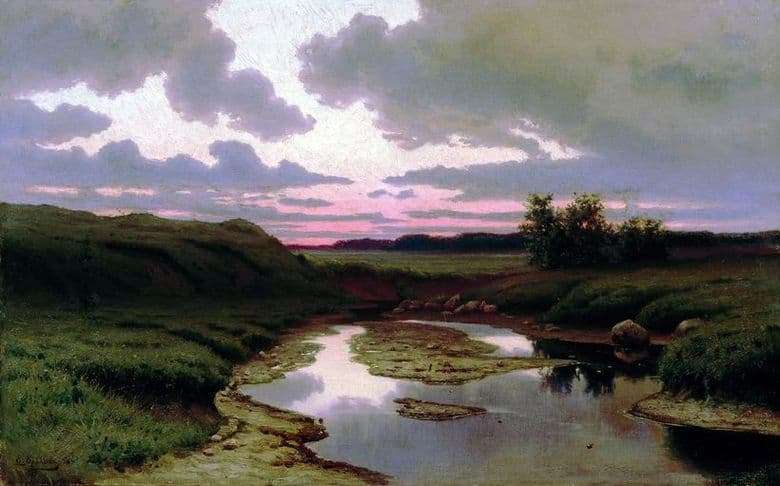 Efim Volkov was born in Petersburg at the end of the nineteenth century. In his youth, he practiced a lot, drawing sketches from life, honing his technique. In his landscapes he depicted mainly his native northern nature, white nights, swamps, winter and autumn. He participated in exhibitions and among contemporaries was quite famous.
The artist died in Petrograd – he never left his city for a long time. His landscapes are distinguished by a rare, almost photographic clarity – unlike many contemporaries, Volkov draws in detail not only the foreground, but also the background, covering the perspective with an absolutely realistic haze. Volkov's canvases are distinguished by perfectionist skill; every pebble, every blade of grass cast shadows, swaying in the wind.
The picture "Twilight" is typical for Efim Volkov. Like most of his canvases, it depicts the harsh nature of the North. In a small lake in the foreground, possibly formed after many days of torrential rains, frail dark green bushes are reflected. Slippery clay banks are deserted; in the thick grass here and there rare and small flowers flash.
The shaggy hill on the left overlaps a part of the horizon and a piece of sky filled with a lilac sunset. Pink and crimson clouds in the distance precede the darkness, which will soon cover far fields. Judging by the sky, tomorrow, most likely, it will also rain; grass and shores do not have time to dry out from moisture, and one rainy day succeeds another. But there is no gloom in the picture; the artist admires the poetic and austere landscape, so typical for the suburbs of St. Petersburg.