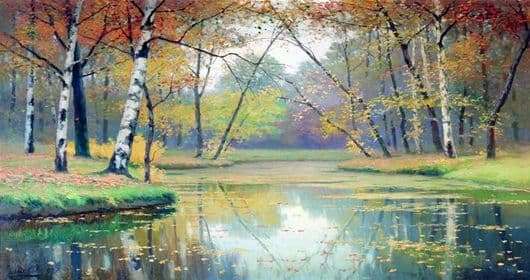 Russian artist Efim Efimovich Volkov worked in the style of realism. The flow of life, which shone on his masterpieces, forced to grasp the full beauty of nature. A special direction of the artist, are the images of Russian nature. Involuntarily you connect all canvases of landscape painter with poetic creativity.
Efim Volkov's masterpiece "Autumn Landscape", was created in 1897. Refinement, animation of the surrounding Russian world are present in their perfection on the canvases of Efim Volkov.
The painter's gaze is directed at the spacious forests that are located above the river. The picture qualitatively shows the early days of autumn. Mrs. is only going to manage in their possessions. Only in some places trees are painted with unusual tones of colors. In the center you can see the breadth of nature, as she calls for a walk in the autumn hour. The leaves are reddish, bright yellow, glowing on the horizon of early autumn trees, which are marked by dark, almost gloomy pine attire.
Spacious river proudly and quietly spread its water streams. Their gloss does not disturb the breath of the wind. Water cover, like a mirror, in which the autumn birch trees look, which have estimated the new autumn outfit. Bright yellow trees, show the image of women who were not so long ago carefree and joyful, suddenly seeing their indescribable feminine charm. Admire their autumn look, they do not seem to believe in such amazing beauty. Clouds, peering into the river, admire the beautiful reincarnation of temperate birches into golden beauties.
The charming attraction of the autumn day, shows the artist in his painting "Autumn Landscape". Looking at the subtle style of painted nature, through the canvas, you imagine that this is reality. As if in the process of the artist's work, nature itself suggested the necessary motive to be depicted in the picture.