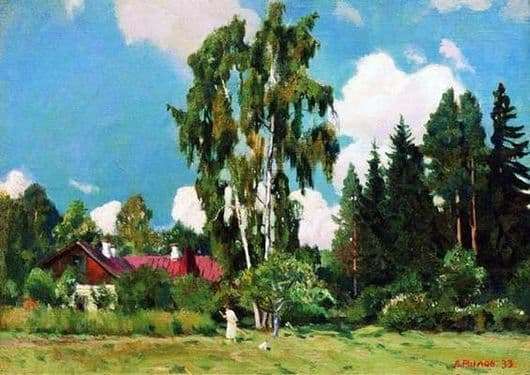 The painting of the famous artist of the end of the XIX beginning of the 20th century by Arkady Rylov "House with a red roof" is incredibly festive and emotional. Rylov's canvases are distinguished by their brightness and originality. His landscapes, including "Green Noise", "Autumn Landscape", etc., convey the pristine beauty of nature in Central Russia.
On the canvas "House with a red roof," the painter depicted a hot summer afternoon in the Moscow region. A small country house, apparently covered with red tiles or metal sheets painted with red paint, stands out against the fertile greenery of trees and bushes.
The brightest spot, except for the red roof, is the old birch towering above all other trees, Russian beauty. It is surrounded by low-growing garden trees, and spruces and pines stand aside so as not to overshadow the incredible splendor of white-haired beauty. It is this birch that emphasizes the wonderful delights of Russian nature.
In the foreground of the picture there is a wide meadow, which is almost all mowed, and it remains only to collect dried hay. Apparently, a large haystack will soon appear here. In the meantime, a patient goat is waiting in the meadow when the mistress finishes turning the freshly cut grass. The sun bakes so mercilessly that a peasant woman stripped down to the bottom shirt.
The whole landscape creates a wonderful mood, because the artist uses bright rich colors. Here there is an incredibly blue high sky with sparse white clouds, lush greenery, different shades on different parts of the picture. Coniferous trees located in the distance, dark green, beveled meadow of a light green shade, on birch bright green foliage. Against the background of natural splendor, the roof of a white-walled house stands out as a bright red spot.
The picture is extremely optimistic and positive, in it warmth and regularity, a calm flow of rural life are skillfully conveyed.