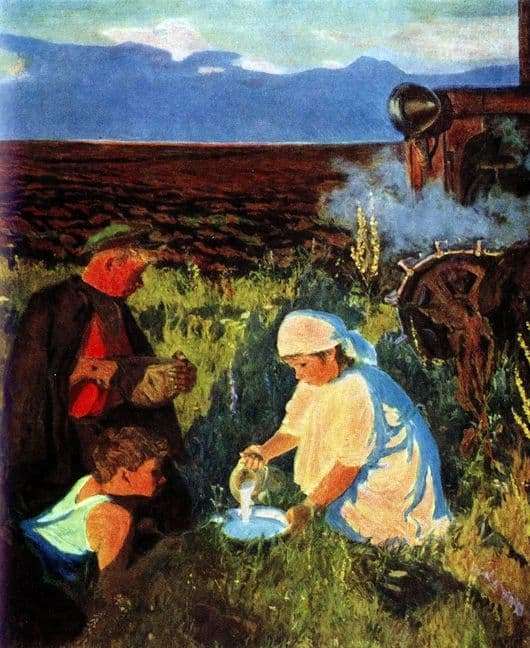 The canvas was written by Arkady Plastov in 1951. The picture has dimensions of 200×167 cm. The work is done in oil on canvas.
The artist has endowed the canvas with an easy-to-read meaning, unpretentious plot and simplicity of images. Layers depicted the evening. Twilight is gathering above the ground. Gradually darkens just plowed field. The sun is setting over the horizon. Everything around is painted in warm golden hues. Slightly breathes evening coolness.
Right on the green grass next to the tractor there is a tractor driver and a boy, probably his assistant, waiting for dinner. A cute little girl in a white robe and scarf brought them food. Dinner is the most common. Just bread and milk. For what a welcome.
The tractor drivers had a minute to rest after hard work in the field. They enjoy peace. Apparently they will have hard work even at night. Each of them has its own business. However, everyone is immersed in their thoughts. The oldest, thinking about something, slices a loaf of bread. It seems that a crunch of fried crust is about to be heard. Perhaps his thoughts are far from work, perhaps he is thinking about the house. The boy sprawled on the ground and watches as the girl pours milk from a can while holding a spoon at the ready.
This is all that the author wanted to convey. There are no acute experiences and everyday problems. Everything is simple and clear.
The people depicted are hardly relatives, but they are united by a certain intimacy. The artist placed the figures in the foreground, focusing on them with bright colors. On the tractor driver is a red T-shirt, the girl is dressed in all blindingly white, the boy is dressed in light clothes.
Heroes are located on the ground among field grass and flowers, hinting at the unity with nature. Behind them is a wide field, turning into the horizon. The sky is overcast. All this creates a charming, magical atmosphere of the oncoming evening.