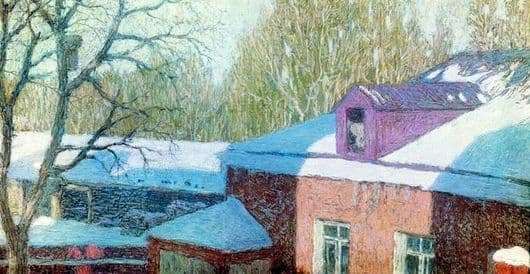 Nikolai Petrovich Krymov is a Russian artist of the beginning of the last century. He was born in a poor family and spent all his savings on teaching painting skills. Due to the lack of money for paint, he used the one that fell from the paintings of rich artists.
The painting "Sunny Day" belongs to the artist's early paintings, which experts call moderately impressionistic, with a separate stroke, pure and poetic paints. The canvas was created in 1906 and reflects the sunny and somewhat romantic mood of a poor young artist at the dawn of his success.
In the foreground of the picture, the viewer can see a part of a large house with a window in the attic, most likely, the attic as well as the rest of the house are occupied by people. In the backyard you can see something like a train. The weather outside is beautiful, the artist painted a thaw, despite the fact that there is still snow on the roof and nearby buildings, the eaves are already covered with rather thick icicles.
The left part of the picture is occupied by a tree, a nesting box is attached to it, and far away behind the house there are also trees, apparently willows, or birch, because their buds are beginning to swell and turn green before the spring. The trees are still covered with snow and their outlines seem to be blurred; nevertheless, they move forward very easily from the back rows and apparently occupy a central place on the canvas.
The picture exudes heat and light, even despite the fact that there is no sun as such, it is saturated with a dozen different thermal shades and colors. The blue sky reflected in the snow and in the windows of the houses, the purity and charm of the world being renewed, even the shadows on the house say that there will soon be a completely different world that awaits its audience. The canvas is beautifully simple, it is precisely this that attracts the attention of many admirers of the artist's work.