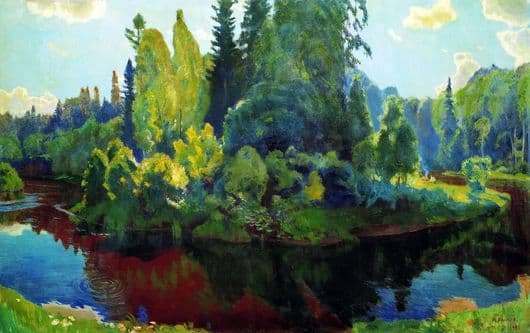 Rylov was a master of landscapes in the symbolist spirit. He was a direct student of Kuindzhi.
The artist loved the most complete images, special lighting, an unusual understanding of light.
The whole landscape is imbued with an incredibly joyful feeling. The space is built in a special way. This style was typical for the painter.
The colors of all his creations are very dense. They are incredibly far from the fragility of etudes. Mood transmitted is always epic. Often it is transmitted to the audience with the help of special prologues or certain presentiments of something.
The artist sought to create landscapes, paintings. He wanted to maximally generalize his native nature, creating a romantic mood and conveying its national features.
When you look at this creation, you feel the special ability of the artist to look at absolutely everyday and familiar to us pictures in a completely different way, with particular poetry. A huge number of people passed by them daily. They did not notice this beauty. No one saw the blue of the river, in which clouds whimpered in a bizarre way, reflecting in it in an unusual way, like in some wonderful fairy tale. The artist was constantly overwhelmed with impressions of what he saw. His hand itself stretched to the brush and canvas to capture it all. Most likely, Rylov was striving not only to glorify the nature of Russia, but to remind all of us that people are fully responsible for ensuring that it not only persists, but also flourishes.
The artist used an incredibly bright and rich colors. At first glance, they are somewhat unnatural. But it is this combination of colors and a special saturation that conveys the mood of the artist and the main idea of ​​his entire painting. Incredible mastery – to see the beauty in the ordinary, to notice the wonderful in the ordinary. It is important not only to see it, but also to convey it to the audience, so that they feel it with full force. Not surprisingly, it was Rylov who became the founder of Soviet painting.