Description of the painting by Nikolay Krymov "Roof"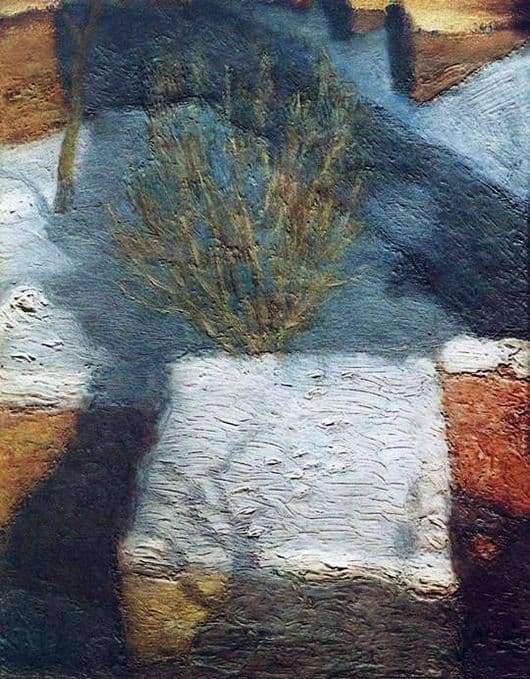 The painting was painted in 1906. This earlier painter's canvas most clearly demonstrates that the real resident of the city has entered the landscape painting of Russia with a special world outlook and a new view of nature. He is really able to see between the rather monotonous roofs of absolutely any city the true and unique beauty of nature. Krymov fully feels himself and necessarily makes the audience feel his paintings that there is some kind of secret life.
Very often we do not see this, because we are constantly in a hurry somewhere. But it is worth stopping and looking at how something new will open, hitherto hidden from our view. It turns out that the nature of the city is no less beautiful than the one that can be seen outside the city. Far from everyone can see her quiet mysterious beauty.
The composition is constructed as if it was not a picture, but a frame from a film or a photograph. The softness of the color transition is associated with the pictures of a wonderful dream, which quickly replace each other.
Nature seems to freeze before our eyes. It is very important that we fully feel the presence of the artist himself, who is in a state of contemplation.
For Krymov, it is very important to perceive nature as incredibly vibrant and necessarily emotional. All kinds of experiments and constructions, created completely far-fetched, are completely discouraged by him.
The landscape was written according to Krymov's imagination. He uses his incredible knowledge of nature and portrays his own emotional state at a certain moment. Krymov sought to convey the whole of nature, but at the same time emphasize the peculiarities of its details. For this reason, the pictures were quite generalized.
This early work of Krymov was appreciated by many artists. The Tretyakov Gallery decided to purchase it, deciding that it was worthy of being in a museum.





(
2
votes, average:
5.00
out of 5)
Description of the painting by Nikolay Krymov "Roof"