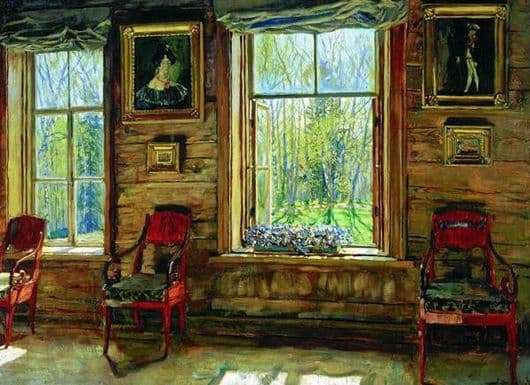 A magnificent Russian landscape painter, whose student works were noticed by I. Levitan himself.
In painting, as well as in the literature of the late 19th century, very often artists began to turn to the subject of estate life. Most often, these works reflect a kind of nostalgic note, being a kind of "look into the past", at the early flowering of estate life, which, due to the growth of cities and the urban population, and indeed many changes in public life, by the beginning of the 20th century began fade away
The artist, as is known, himself spent his childhood in the estate, and these landscapes and interiors are his inner world, something he was used to, something native and warm. Therefore, with such love, he writes numerous manors, parks, landscapes, interiors of houses, etc.
In the picture we see the interior of the living room. It is slightly darkened. The house seems to be resting in the absence of people. Red empire chairs, velvet-lined, portraits belonging to the very beginning of the 19th century – one portrait, perhaps a secular lady, the other – a portrait of a military man, even of the Pavlovian era. It all sleeps. But from the wide open window breaks a clear, warm May afternoon.
It is as if we feel this fresh air, this aroma of young greenery, we hear birds chirping in the courtyard, life is flowing outside the window! The bright, juicy green of young trees, the blue of the sky – all this creates such a lively and joyful atmosphere that you definitely want to find yourself in that place in order to feel the same thing that the artist felt when he wrote this canvas. The picture disposes not only to contemplation, but also to reflections. There is no action on it, everything is static.
But looking out the window, suddenly you want so much to forget your sorrowful thoughts about the past and the future, and run out into the bright courtyard… And breathe deeply in the air of spring – eternal and unchanging… and not think about anything!