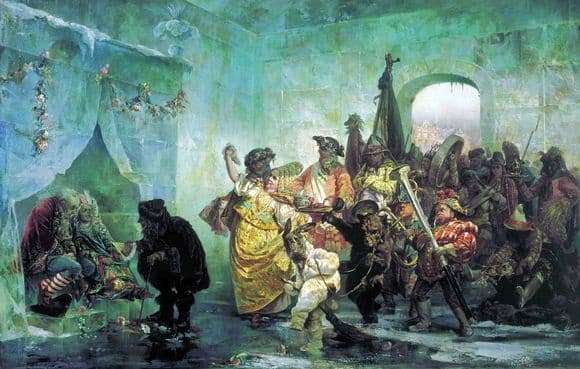 The painting "Ice House" of 1878 illustrates one of the sad stories in the Russian government – the clownish wedding of Prince Golitsyn and Anna Buzheninova. The canvas reflects the reign of Queen Anna Ioannovna, who became famous for cruel "events." The ice house was one of its "joking" decisions. Once Anna Ivanovna was angry with Prince Golitsyn, who was one of her colleagues.
The Empress figured out how to get revenge on him. Further actions she performed so that she looked unsuspecting. She told the prince that she would give her darling to marry him. And as a gift will build a magnificent house on the banks of the Neva. It turned out to be an ice house, in which everything around was made of ice: furniture, maps, cannons, walls. The newlyweds also had to spend their wedding night on an icy bed.
The clown wedding was magnificent, and the Tsarina Anna Ivanovna herself took part in it. Besides her, guests of numerous nationalities came to the celebration. They were dressed in national costumes, which was one of the conditions of the feast. First, the feast was held in Biron's arena, after which the newlyweds were taken to the ice house and locked there until the morning.
The painting "Ice House" illustrates the moment of arrival of guests the next morning to the "ice den" to greet the newlyweds. In the foreground there are figures, mostly playing musical instruments. In the background, mostly, dancing women and men. The newlyweds left for the night almost froze to death, taking into account the fierceness of the Russian frosts in former times.