Description paintings Alexei Savrasov "Spill the Volga near Yaroslavl"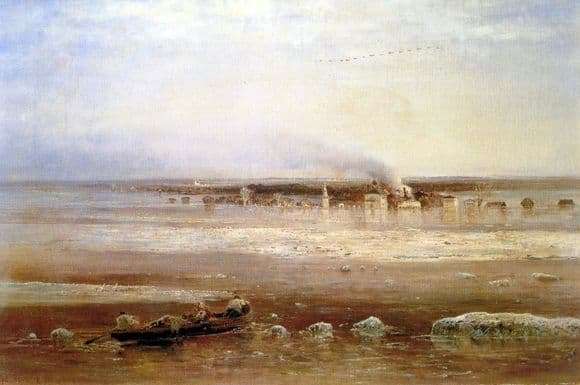 Alexei Savrasov in the development of his creative individuality was not easy, because at that time the landscape genre of painting in Russia was only developing, and it was worth a lot of hard work to identify yourself on this site. However, he managed to identify his individual approach to writing landscapes, which is clearly seen in the painting "Spill of the Volga near Yaroslavl".
The artist described his poetic abilities in paintings, thereby breathing in them notes of romanticism and soul. He perfectly felt the awakening of nature from hibernation, its looseness and blossoming beauty. Favorite month of the artist was precisely March, filled with genuine purity of the first flowers and gradually melting snow. He believed that true beauty is that which you see through ordinary things, you put in your mind. Comparing this statement with the months of the year, he drew attention to May, when the riot of colors around sometimes burned his eyes.
With regards to this work, here the viewer observes open spaces, sustained in one range of colors. The favorite river of the creator in this case flooded several villages, casually spilling around. In the sky you can see a flock of birds returning to the south after a dark winter. According to Savrasov, birds are direct
Foreshadowing the arrival of spring.
The artist also depicted a boat with people who are trying to reach the place of the fire in the distance, and small blocks of ice float past them. The viewer, peering into the picture, gets a feeling of the unimaginable grandeur of Mother Nature, who so loudly and distinctly declares herself with the help of unbridled elements. A large area is occupied by the horizon and the sky on the canvas. It personifies a protest against the reaction of people about the flood. Thus, in the work there is harmony of opposing emotions and a sense of approaching warmth.





(
1
votes, average:
5.00
out of 5)
Description paintings Alexei Savrasov "Spill the Volga near Yaroslavl"