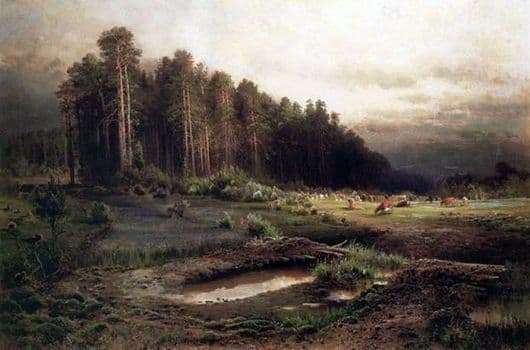 Savrasov is true to himself. The landscapes in his performance are the most beautiful and authentic. Who would have thought that in Sokolniki, here in this mud, someday high-rise buildings would rise and pass asphalt roads? Here we have Sokolniki, which were once. And the same elk island, where elks are still found, and not like now – one name.
And after all here the painter did not apply to play with the light. The sky is clearly stormy, the clouds are such that it is not even an hour, it will rumble from above and rain will fall.
Cows can wash themselves under the water of heaven and joy, but shepherds don't want to get wet much and it is clear that the flock is fat and does not disperse. But what is the most beautiful, that it is the flock that is still consecrated by the sun, and the forest is gradually covered with dark twilight. In the foreground, by the way, are visible bridges over the ditch. It seems that soon they will drown in storm water. Yes, and the dirt will be added without it…
Not everyone is able to convey the mood before a thunderstorm or a state where something is about to happen. But Savrasov managed to create the mood of a thunderstorm, the feeling of inevitable whim of nature in this canvas. And most importantly, it seems that the inflation of the sky is pressing, it is pressing not only on our perception, but also on the same pine forest, which is already half dark from the clouds. But still the light makes its way to the trees and tries to shine there, but not for long – there are some clouds running across the sky. Here the main thing for the shepherds is not to gape and catch at least cows in the forest to hide them, otherwise it can happen.
Still, it is not for nothing that Savrasov is the ancestor of the Russian landscape. It was Korovin and Levitan who studied with him, he created the most famous painting "The Rooks Have Arrived", which they are ready to buy for unprecedented big money, and which brought world fame to the artist.