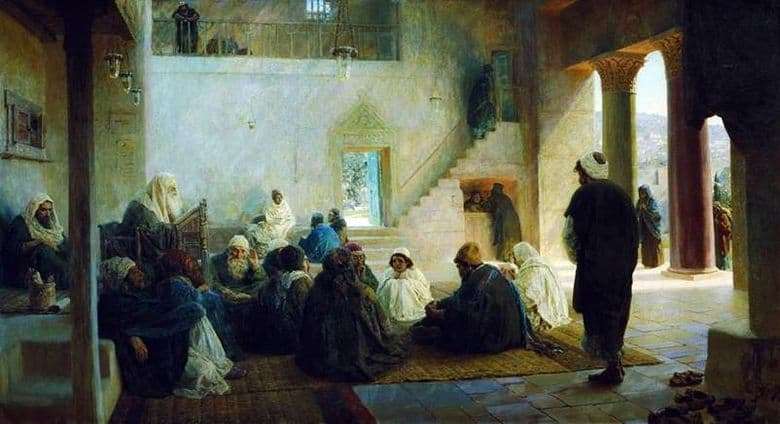 The painting "Among the teachers" refers to the Gospel cycle of works by the famous artist Vasily Dmitrievich Polenov. Interest in the religious theme was characteristic of the masters of the time. However, as the author himself argued, he was looking for "historical truth." That is why the work does not have a mystical story and sacred trembling.
Before us is an episode from the everyday life of the young Jesus. This passage is well described in the Bible from Luke. Mary and Joseph lost Christ during one of their walks. The boy came out of the church and firmly announced that he would stay here for training. From now on and forever, he will serve the Lord. We see Jesus in white robes sitting surrounded by wise old men and Pharisees on the floor, diligently listening to the lesson. At the entrance to the church stands Maria. It is written as a minor character and does not attract attention.
The building of the temple is simple in decoration, there are only mats for sitting and a pair of lamps. Footwear parishioners located in the corner. On the second floor we see a man who is watching with interest what is happening. Polenov tried very hard to capture people as they were at that time. To this end, he invited as a model the Jews from the Jewish quarter of Rome, who largely preserved the appearance of their predecessors.
It is worth noting the muted palette of varying shades of brown, yellow and gray. Colors echo each other and do not conflict. Such a calm background does not distract from the plot and creates the most authentic atmosphere of that historical moment in the life of the Son of God.
Polenov did not hide that a series of paintings on the theme of the life of Christ was the main work of his creative path. He persistently and convincingly sought to "clear" the image of the savior from the mystification, to make it close and comprehensible, in the extreme degree human.