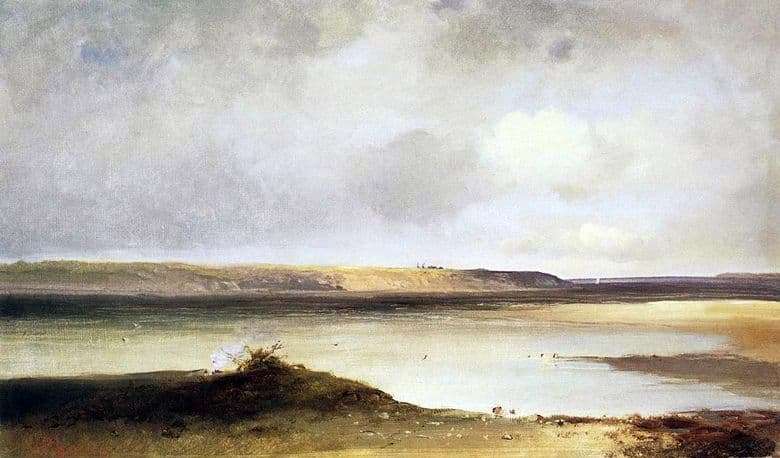 The artist painted a large number of paintings and sketches, where the main character was the great Russian river – the Volga. Master lyric landscape, Savrasov admired the river at any time of the year. Each landscape is, above all, a caught moment, colored by its mood and emotions.
"Volga. Dali" is written in the style of realism, but it has already acquired the features of the flow of symbolism, when it neglects minor details, but focuses attention on the main thing. The first impression is the admiration of the scope and diversity. A feeling of oneness with nature and a quiet love for one's native lands, a desire to touch the source of life and worship the spills of Mother Volga.
The muted tones, one can say, almost monochrome of the picture emphasizes the unity of mood with nature. The swirling clouds almost completely cover the sky, disturb the soul and sink, being reflected in the water. A leisurely run of the river, small waves and the darkness of the depths are calling to the horizon, where the channel will widen further, hiding the coast in a hazy haze.
A small sandy reach stretched its long tongue almost to the middle of the river. Waves thoughtfully lick the shore, shaking the noisy gulls on the water.
Gentle shores gently flow from the lowlands into low hills covered with grasses. At the coast, the water brightens, the scattering of medium-sized stones creates a fancy pattern on the sand.
The main theme of the picture was nature, consonant with human feelings. The unpredictability of water and gusts of wind, grass and low bushes bending to the ground, the reflection of clouds in changing currents and the caught moment of latitude and freedom.