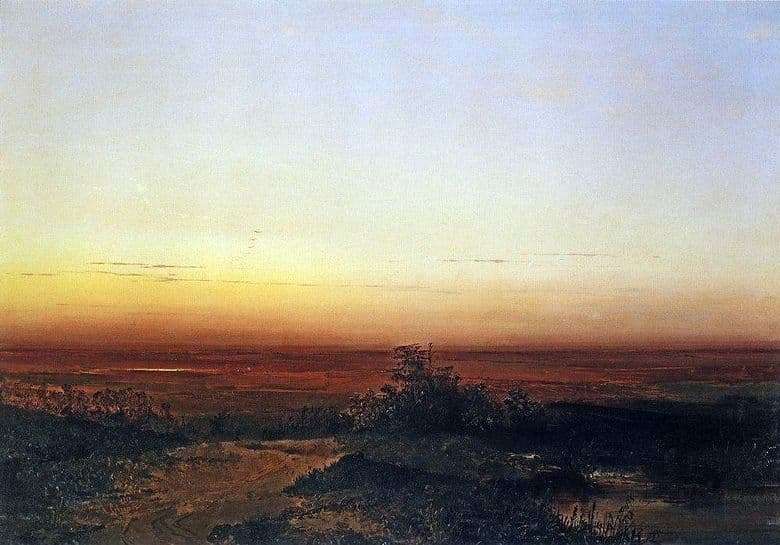 Alexey Savrasov early discovered the ability to painting. Critics have noted the extraordinary vitality of the young man's work – although they considered some of them to be somewhat awkward. However, the artist quickly progressed in his work, and already at the age of twenty-four, when he graduated from college, he received the title of academician. Despite the fact that in his youth Savrasov traveled a lot, the overwhelming majority of his landscapes depict native, Russian expanses. The artist always painted nature in a sublime way, romanticizing even its rather unsightly manifestations.
The canvas "Dawn in the Steppe" was created by the author during a creative trip to Ukraine. Savrasov was struck by the infinity of the steppe expanses, and in the works of that time he tried to convey this feeling of freedom and the incredible openness of the landscapes spreading before him. Truly poetic romanticism of this picture creates an upbeat, happy mood.
Nature awakens from sleep; the sky is painted first in bright purple, crimson and orange, and then in pink, pale golden and pale lilac tones. Delicate colors and transparent light and shadow perfectly convey the airy atmosphere of the early morning; the sky looks radiant and solemn. The morning born on the horizon gradually lightens the black colors, destroys the shadows; steppe wakes up and opens towards the sun and summer heat. In this picture, the artist resorted to one of his favorite motifs – the image of the dawn or sunset sky using paints of all colors of the rainbow, with rich and powerful smooth transitions; however, in the interpretation of Alexei Kondatyevich, these colors look absolutely natural and do not seem to be excessively bright.