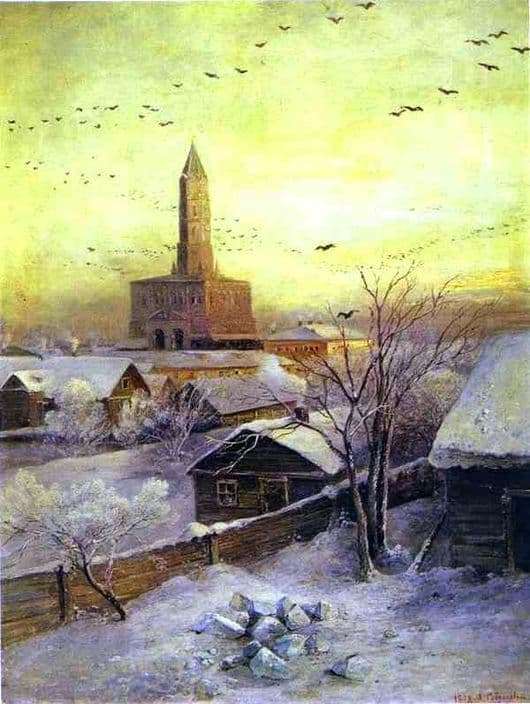 Already it often happens that it is the artists who preserve for us the appearance of something that we once destroyed. Something that should have been saved, but that's not enough intelligence. Much in Moscow of the thirties of the last century was destroyed, destroyed, erased from the face of the city.
Destroyed monuments of architecture, ancient artifacts. "We're ours, we'll build a new world!" – the workers and peasants yelled brainlessly, hungry and stunned by their freedom. They demolished everything: temples, rich estates, monuments. They blew up the Cathedral of Christ the Savior and destroyed part of the Kremlin monasteries. And they disassembled Sukharev's brick by brick. The same one that Savrasov painted on his canvas.
This is the very tower where midshipmen learned by order of Emperor Peter the First. This tower has stood in its place for more than a hundred years, but it has not withstood the onslaught of the new masters of Russia. Dismantled as a shameful tower. Although in reality the Sukharev Tower was the most conspicuous in Moscow. Many went to the capital to be at the top of the Ivan the Great Bell Tower, to pray in the Cathedral of Christ the Savior and… to visit the Sukharev Tower. Great luck was considered there and eat.
But Sukharev was not always popular. She was often rumored about as a magical tower. They say that Moscow witches and sorcerers often held the advice and held advice, how and what to do over the human race.
By the way, even Savrasov didn't resist – crows are circling over the tower, and this bird is known to be close to wickedness. And the weather on the canvas does not indulge. Most likely, this is the edge of winter, but not yet spring. Some despair or sadness is felt, it is not clear.
But the landscape does not pacify the soul, but on the contrary is a little disturbing. And by the way, the artist managed to convey to us the color of this tower – pink. True, it is not so noticeable on the canvas, but it is still clear that the tower was noticeable among the many buildings of the capital that survived after 1812.