Description of the painting by Alexei Savrasov "Winter Road"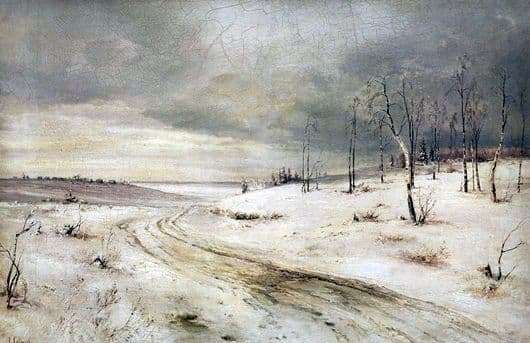 The work of art was created by Alexey Savrasov with a brush from 1870 to 1880. The picture was painted in oil. The canvas has a size of 53.5 x71.5 cm.
The artist painted a picture in not the best times of his mental state. Savrasov extremely difficult experienced family schism. The only consolation he found in the drink. It was extremely rare for the light to have the pleasure of seeing its new masterpieces.
On the canvas "Winter Road", the artist depicted the Russian winter. Snow-covered landscape, as if the road divides into two parts. On the one hand there is a forest and several birches near the curb. On the other hand, as if cut off from the whole world, there are shrubs, shrouded in emptiness. From the general color scale it is noticeable that the air is no longer frosty. It is possible that already thaw. The snow has become loose. The road runs away and not reaching the horizon, somewhere dissolves. In the distance you can see the river still covered with ice.
The artist paid special attention to the image of the sky. It occupies most of the landscape. It combined into a single whole set of shades of blue gamut. In some places, yellowish colors are guessed, giving gravity to the overhanging clouds. You would think that nature decided to create another trick and cover all around with snow or pour rain. Cloudy grayish shades give the picture an atmosphere of tension and anxiety. Dark sky transition from light colors to blue colors, as if piercing the canvas along.
Looking at the picture, involuntarily envelops anxiety, emptiness, even dreary thoughts. Pictured birch like people who are separated. Lonely shrubs add drama to the general view, because next to them bare trees are just like dead. The artist with the help of the canvas conveyed his state and inner experiences. Representing a winter landscape, the author shares a part of his life.





(
1
votes, average:
5.00
out of 5)
Description of the painting by Alexei Savrasov "Winter Road"