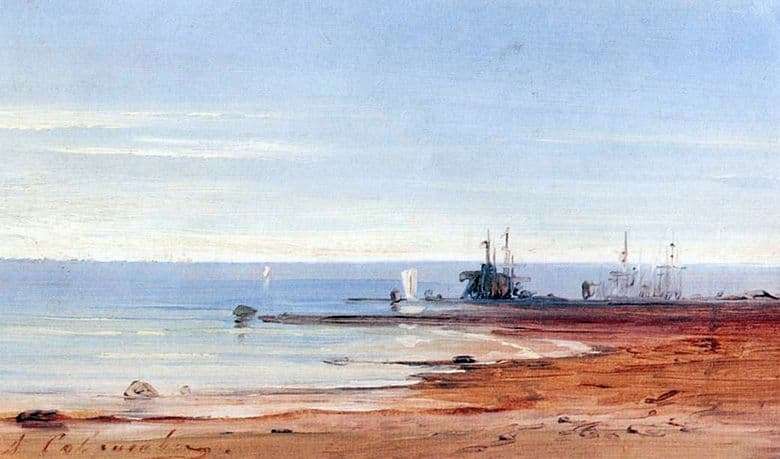 Alexey Savrasov was the son of a wealthy merchant, who actively protested against his son's drawing classes. Kondraty, the father of the future artist, was selling wool products, and sincerely hoped that his son would continue his work. But little Alexei copied his illustrations from magazines all day with gouache. To Kondraty's surprise, the boy managed to sell several works on the market – after that, the aspiring artist entered the painting school and paid for his own studies. His easy, detailed landscapes liked and teachers, and critics and willingly bought by collectors. Grand Duchess Maria Nikolaevna, the Tsar's sister, accidentally seeing the works of young Savrasov, summoned him to her dacha with an order to write several landscapes. After completing the order, she offered him to remain in the future to work in St. Petersburg – but the young man, timid and shy,
The artist received the title of academician of painting very early – at the age of twenty-four. But further troubles fall on the artist, one after another. Of the five children born, only one survives; as a teacher, he has too few students – and, accordingly, little money. Alexey begins to drink, loses his state-owned apartment, later he is fired from the school. The creator died alone in a hospital for the poor.
In the heyday of Savrasov's talent, the landscape genre in Russia was in its infancy; because in many ways he was a pioneer. The artist's works breathe romanticism and light sadness; Because of this, many contemporaries considered them superficial and subjected to harsh criticism. Nevertheless, the landscape painter has been actively experimenting all his life, looking for the characteristic features inherent in the Russian landscape. Almost all of his works create a feeling of a wide, space apart, the boundless nature, the airiness of the surroundings. "Without air, landscape is not landscape!" – the author wrote. At the same time, in most of the paintings Savrasov tried to inscribe human housing – thus emphasizing the relationship of man with nature. The author's most famous work, The Rooks Have Arrived, has become an encyclopedic in every respect.
The painting "Sea" has all the characteristic features of the artist. High bright sky occupies almost half the area of ​​the canvas. On the horizon, the sky almost merges with the sea – calm, majestic, written in broad horizontal strokes. The picture is dominated by blue tones with a slight tinge of lilac; the ground in the lower right is written in orange-brown, the dirty white foam beats on the shore. Someone's uneven traces are visible in the sand, in which salt water stands, waves have thrown some objects on the beach half stuck in coastal mud and mud. On the border of the sea and land there are almost transparent, light masts of fishing boats, as if hovering in silver air. A lone white sail of a tiny boat is reflected in the water, dissolving and disappearing. The sea seems shallow and safe.