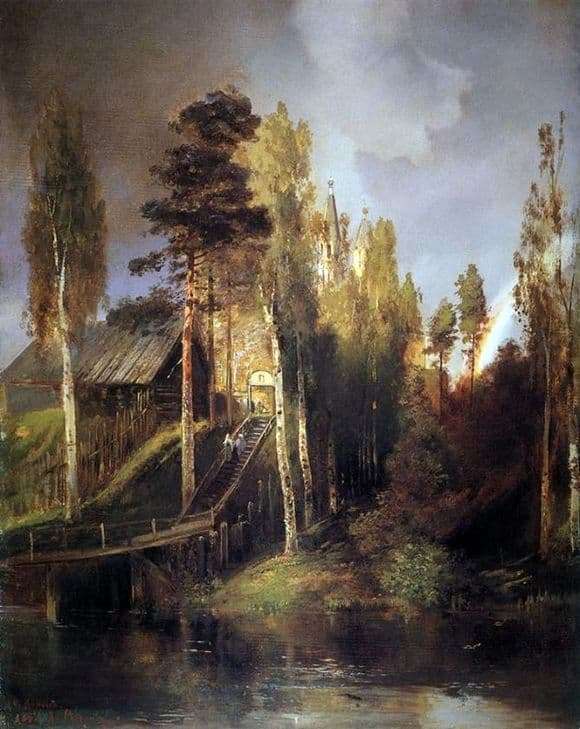 Alexey Kondratievich Savrasov's painting is unique in that it is an amazing play of light and shadow. The painting "At the Monastery Gates" is included in the famous rainbow cycle of the artist's paintings, even though its significance is shaded – we see a rainbow somewhere behind the trees, more often in the forest.
The disturbing landscape, with clouds hanging over the temple and pines, draws a heavy sky, which is just about ready to spill over with biting summer rain. The agonizing summer heat emanates from the smooth surface of the water, gives away the fresh bushes from the buzzing, languishing, all the smells of nature become aggravated and soar uncontrollably over the slope.
As is often the case in the midnight thunderstorm season in the summer – where the scorching sun beam descends on the earth, but in Savrasov's picture he does not look blindingly cruel, on the contrary, the ray of light is scattered, wide, he lit up the monastery entrance, and people reached for the light in the cool white stone temple. The silence of the monastery creek is disturbed only occasionally by audible bursts of water in the lowlands, unhurried steps of people quietly leaving their cells. A rainbow illuminates the sky with its brilliance and is about to be ready to hide somewhere in the air, disappearing before the next sun.
Savrasov's artistic mastery in all its glory is presented to the spectators in every smallest detail of the landscape, in every leaf of birch, reflecting the sun's glare. The picture attracts the eye not only by such charming lightened places, such as, say, a brown-sided slope, but also houses on a hill, glare on the water, plants in their lush bloom.
The answer to the question of why this particular landscape attracted the artist's attention lies in his special attitude to this place in Sergiev Posad near Moscow. The skeet of "Kinovia", depicted in the picture, is located in those surroundings where the artist so often rested with his family.