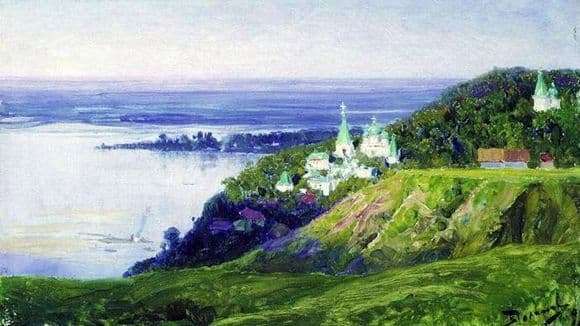 Vasily Polenov began to write this magnificent picture, after he visited Kiev and remained impressed by this trip. On the canvas one can see the beautiful Vydubetsky monastery, which is located a little below the Pechersk hills, which with its walls descends almost to the water surface itself.
This monastery was founded by monks for a very long time and now, almost anyone who pilgrims or just travels along the Dnieper River, must at least just have a look at this beautiful monastery. His golden crosses are very large and everyone should see them.
Polenov, got here in the early morning, and after he saw the sunrise and what followed, it simply could not remain indifferent to such beauty. As soon as the sun is about to rise, golden crosses begin to glow with a fiery red hue, with scarlet and red tints.
Of course, the glow is truly amazing, and if you see this action with your own eyes, it becomes clear what exactly inspired the artist. Plus, the master was a very religious person, so he was able to appreciate the beauty of the church buildings more than anyone else and take this work with all seriousness and maximum trepidation.
Please note that the picture is divided into two visual horizons, which are contrasted with each other, visible overflow of blue and green colors. The river is calm and creates a feeling of peace on the background of rocky slopes that surround the monastery on one side and the green forest on the other.
Nature only wakes up and the artist gives us a clear understanding. Polenov very often refers in his works to the water surface, qualitatively emphasizing the behavior of water and inscribing pictures into the overall dynamics, thereby allowing the viewer to penetrate more deeply into the atmosphere.